Nissan Xterra WD22 (1999-2004) – fuse and relay box
Diagrams of fuse boxes and relays – Nissan Xterra WD22
Applies to vehicles manufactured in the years:
1999, 2000, 2001, 2002, 2003, 2004.
The cigarette lighter (power sockets) on the Nissan Xterra is provided by fuse no. 23 (cigarette lighter) in the instrument panel fuse box and fuses no. 34 (2002-2004: rear power socket), no. 42 (front power socket) Engine compartment fuse box.
Instrument panel fuse box
The fuse box is located behind a cover below and to the left of the steering wheel.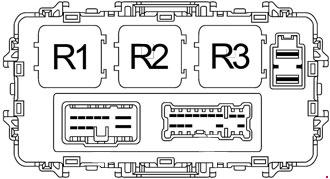 Number
Amperes [A]
Description
1
15
Fuel pump relay
2
7.5
Hazard light switch
3
10
Injectors
4
–
–
5
7.5 / 10
1999-2000 (7.5A): ASCD Brake Switch (Shift Lock Switch), Theft Warning Relay, SECU, ASCD Main Switch, Warning Chime Module, Electric Window Relay, Daytime Running Lamps Control Module

2001-2004 (10A): ASCD Brake Switch (Shift Lock Switch), Vehicle Safety Relay, SECU, ASCD Control Unit, Warning Chime Unit, Rear Window Defogger Relay, Rear Window Defogger Timer, Low Tire Pressure Warning System, Control Daylight module, overdrive control module (KA24DE + automatic transmission)

6
twenty
Front Wiper Motor, Front Washer Motor, Front Wiper Switch
7
7.5
Engine control module (ECM), daytime running light control unit
8
10
ABS, pressure switch
9
10
Airbag diagnostic sensor unit
10
10
Rear wiper motor, rear washer motor
11
10
Combined Odometer, Clutch Lock Relay, 4WD Switch, Backup Lamp Switch, Transfer Neutral Switch, CAN Converter, Steering Angle Sensor, Compass and Thermometer, Data Link Connector
12
10
Park / Neutral Position Switch, Transmission Control Module (TCM)
13
10
Engine Control Module (ECM), EGRC Solenoid Valve, EVAP Canister Purge Control Valve, Vacuum Shutoff Valve Bypass Valve, Boost Bypass Control Solenoid, Map / Baro Switch Solenoid Valve
14
15
Heated oxygen sensor
15
10
IACV-AAC valve, throttle position sensor
16
–
–
17
10
Hazard Switch, Remote Control Relay (1999-2000)
18
10
Audio, Door Mirror Switch, Power Socket Relay (1999-2000)
19
15
Blower motor
20
7.5
Low Tire Pressure Warning System (2003-2004), SECU
21
15
1999-2001: Rear window defogger relay
22
twenty
Stop lamp switch, trailer tow control unit
23
15
Lighter
24
15
Blower motor
25
15/20
1999-2001 (15A): Rear window, rear window of defogger relay
2002-2004 (20A): Rear window of defogger relay
26
7.5
Data Link Connector, Map Lamp, Vehicle Interior Lamp, Low Tire Pressure Warning System (2003-2004)
27
10
Engine Control Module (ECM), ECM Relay (ECCS Relay)
28
7.5
Combination Meter, Key Switch, Safety Indicator Lamp, SECU, Transmission Control Module (TCM)
Relays:
R1
Accessory
R2
Blower
R3
Ignition
Fuse box in the engine compartment

Number
Amperes [A]
Description
29
7.5
Air conditioner relay, Daytime running light control unit (2003-2004), Thermal booster (1999-2000), Air conditioning switch (1999-2000)
30
–
–
31
7.5 / 20
1999-2000 (7.5 A): Theft alert horn relay, Theft warning lamp relay
2003-2004 (20 A): Auxiliary power supply
32
10/15
Horn relay
33
twenty
2002-2004: Audio amplifier
34
15
2002-2004: Rear power socket
35
7.5
Air conditioner relay
36
7.5
Generator
37
15
Right-hand headlight, lighting switch, daytime running light control unit, vehicle safety lamp relay
38
15
Left-hand headlight, light switch, daytime running light control unit, vehicle safety lamp relay, high beam indicator
39
15
Lighting switch
40
15
Front fog lamp relay
41
15
Audio
42
twenty
Front power socket
43
–
Not used
44
–
Not used
A
80
KA24DE: Generator, Ignition Relay (Fuses "2", "5", "6", "8", "10", "11", "12", "15"), Fuses "F", "G", "17", "22", "25", "26", "27", "28", "31", "32", "33", "34", "35", "36"
A
120
2003-2004 (VG33E, VG33ER): Generator, Fuses "F", "G", "J", "31", "32", "33", "34", "35", "36"
A
100
1999-2002 (VG33E, VG33ER): Generator, Fuses "F", "G", "J", "31", "32", "35", "36"
b
80
Accessory relay (Fuses "18", "20", "23"), Blower relay (Fuses "19", "24")
C.
30/40
ABS
D
40
ABS
E
40
Ignition switch
F.
30/40
SECU, power window relay
g
twenty
Cooling Fan Relay
2003-2004: Auxiliary Power
h
–
Not used
J.
80
VG33E, VG33ER: Ignition relay (Fuses "2", "5", "6", "8", "10", "11", "12", "15"), Fuses "31", "32", "33", "35", "36"
Relays
1999-2001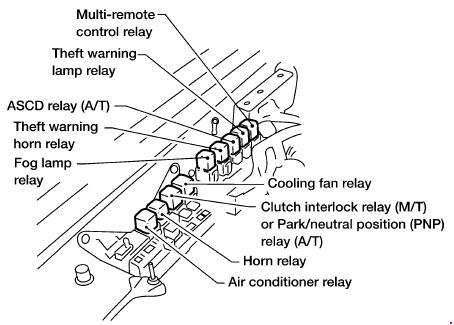 2002-2004