Peugeot 308 (T7) (2010) – fuse and relay box
Diagrams of fuse and relay boxes – Peugeot 308
Applies to vehicles manufactured in the years:
2010.
The cigarette lighter (sockets) in the Peugeot 308 is fused by the F9 fuse in the instrument panel fuse box.
Dashboard fuse box
Left-hand drive vehicles: The fuse box is located on the lower part of the dashboard (left-hand side).
Turn the screw a quarter of a turn to the left, unclip the cover by pulling the upper right part, unhook and pull off the cover, remove the carrier on the back to which the tweezers are attached.
Right-hand drive vehicles: located in the lower left corner of the dashboard.
Open the glove box lid, slide the opening guide left past the first notch, open the glove box lid fully, turn the screw a quarter turn counterclockwise, unhook the fuse box lid by pulling the upper right part, detach the fuse box completely cover and flip it over, remove the bracket, on the back with tweezers and spare fuses attached.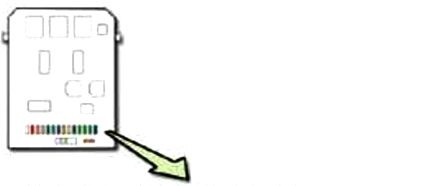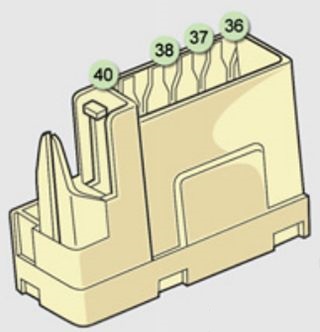 Number
Amperes [A]
Description
F1
–
Not used.
F2
30 A.
Blocking and jamming the ground.
F3
5 A.
Control unit for airbags and pretensioners.
F4
10 A.
Clutch pedal and dual action brake switches;

Electrochromic rear view mirror;

Air conditioning;

Steering angle sensor;

Automatic Transmission;

Switching and protection unit.

F5
30 A.
Front power windows with one button;

Folding mirrors.

F6
30 A.
One-touch rear windows;

Controlling the opening of external doors.

F7
5 A.
Front and rear ceiling lights;

Map reading lights;

Sun visor lighting;

Glove box lighting.

F8
20 A.
Audio equipment;

Audio / telephone;

Multifunction screen;

Detection of under-inflation of tires;

Internal storage.

F9
30 A.
Front 12V socket;

Lighter.

F10
15 A.
Steering wheel mounted controls;

Alarm siren;

Alarm switchboard.

F11
15 A.
Low current ignition switch.
F12
15 A.
Instrument panel;

Display of warning lamps for seat belts and passenger's front airbag;

Air conditioning;

Driver seat memory module;

Retractable roof assembly.

F13
5 A.
Engine fuse box;

Airbags.

F14
15 A.
Multifunction screen;

Amplifier;

Loudspeeker sysetm;

Rain and sun sensor;

Parking sensor controller;

Passenger seat memory module.

F15
30 A.
Locking and deadlock.
F17
40 A.
Defrosting the rear window and side mirrors.
CII
–
PARC shunt.
G36
30 A.
Heated driver and passenger seats.
G37
5 A.
Trailer fuse box.
G38
30 A.
Driver seat memory module.
G39
–
Not used.
G40
30 A.
Hi-Fi amplifier;

Passenger seat memory module.
Engine compartment
It is located in the engine compartment near the battery (left side).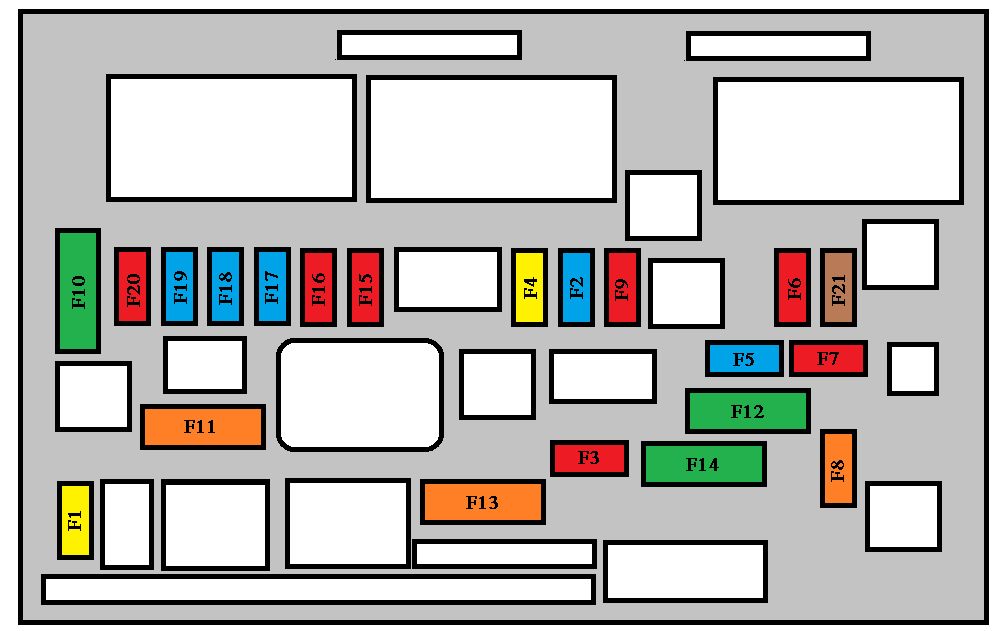 Number
Amperes [A]
Description
F1
20 A.
Power supply to the engine controller, injection pump and EGR solenoid valves (2 liters HDI), injectors (2 liters HDI).
F2
15 A.
Horn.
F3
10 A.
Front sprinkler.
F4
20 A.
Headlight washer.
F5
15 A.
Purge canister;

electrovalves for pressure regulation of the turbocharger and turbine outlet (1.6 I THP 16 V),

Oil vapor heater (1.6 liters of 16V THP);

Diesel fuel heater (1.6 liters HDI).

F6
10 A.
Vehicle speed sensor;

ABS / ESP control unit.

F7
10 A.
Power steering controller;

Automatic Transmission;

Engine coolant level sensor.

F8
25 A.
Starter control.
F9
10 A.
Diagnostic socket;

Directional headlights;

Air Flow Sensor (Diesel);

Diesel Particulate Filter Pump;

Control of exterior mirrors.

F10
30 A.
Engine controller actuators (petrol: ignition coils, solenoid valves, lambda sensors, injectors, heaters, fuel pump, electronic thermostat) (Diesel: solenoid valves, heaters).
F11
40 A.
Air conditioning blower.
F12
30 A.
Windscreen wipers slow / fast.
F13
40 A.
Embedded system interface power supply (positive ignition).
F14
–
Not used.
F15
10 A.
Right-hand high beam headlamp.
F 16
10 A.
Left high beam headlamp.
F17
15 A.
Left-hand dipped beam headlamp.
F18
15 A.
Right dipped headlight.
F19
15 A.
Oil vapor heater (1.6L VTi 16V);

Canister purge solenoid valve (1.6L VTi 16V);

Oxygen sensors (gasoline);

Air cooling solenoid valves (Diesel).

F20
10 A.
Electronic thermostat;

Variable valve timing solenoid valves;

Turbo (Diesel) pressure control solenoid;

Engine coolant level sensor (diesel).

F21
5 A.
Fan assembly relay power supply;

Valvetronic relay control (1.6 liters VTi 16v);

Turbo cooling (1.6 liters THP 16V);

Air flow sensor (1.6 liter HDI).
Fuses on the battery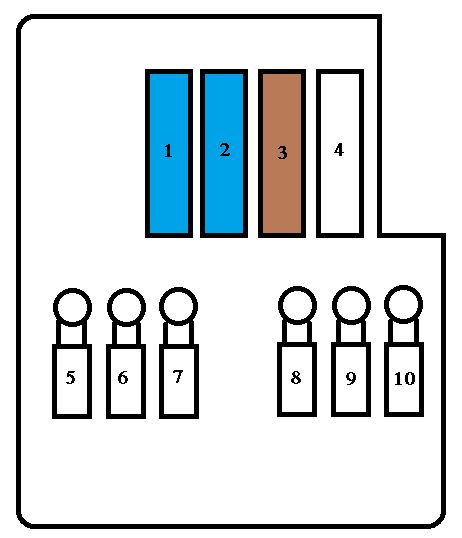 | Number | Amperes [A] | Description |
| --- | --- | --- |
| F1 | – | Not used. |
| F2 | 5 A. | Dual function brake switch. |
| F3 | 5 A. | Battery charger. |
| F4 | 25 A. | ABS / ESP solenoid valves. |
| F5 | – | Not used. |
| F6 | 15 A. | Automatic Transmission. |
| F7 * | 80 A. | Power steering electropump assembly. |
| F8 * | 60 A. | Fan assembly. |
| F9 * | 70A / 30A | Preheating unit (Valvetronic diesel electric motor (1.6 liter THP 16V). |
| F10 * | 40 A. | ABS / ESP electropump assembly. |
| F11 * | 100 A. | Switching and protection unit. |
| F12 * | – | Not used. |
| MF1 * | – | Not used. |
| MF2 * | 30 A. | Trailer fuse box. |
| MF3 * | 50 A. | Fuse box in passenger compartment. |
| MF4 * | 80 A. | Built-in system interface. |
| MF5 * | 80 A. | Built-in system interface. |
| MF6 * | – | Not used. |
| MF7 * | 30 A. | Heated seats. |
| MF8 * | 20 A. | Headlight washer. |
| | | * Midi and maxi fuses provide additional protection for electrical systems. Any work on this type of fuse must be performed by a PEUGEOT dealer. |