Peugeot Boxer (2019-2022) – fuse and relay box
Diagrams of fuse and relay boxes – Peugeot Boxer
Applies to vehicles manufactured in the years:
2019, 2020, 2021, 2022.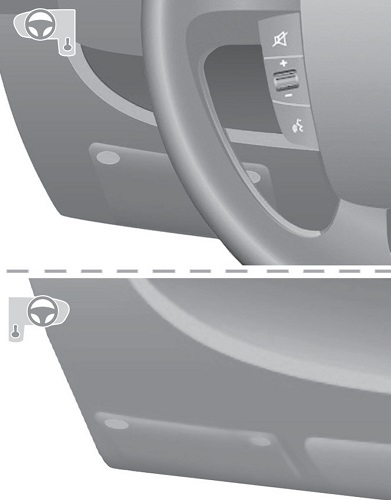 There are three fuse boxes in the car: in the left-hand dashboard, in the right-hand pillar and in the engine compartment.
Markings shown apply only to user replaceable fuses. For other repairs, contact a Peugeot Network Dealership or a specialist workshop.
Fuses on the left side of the dashboard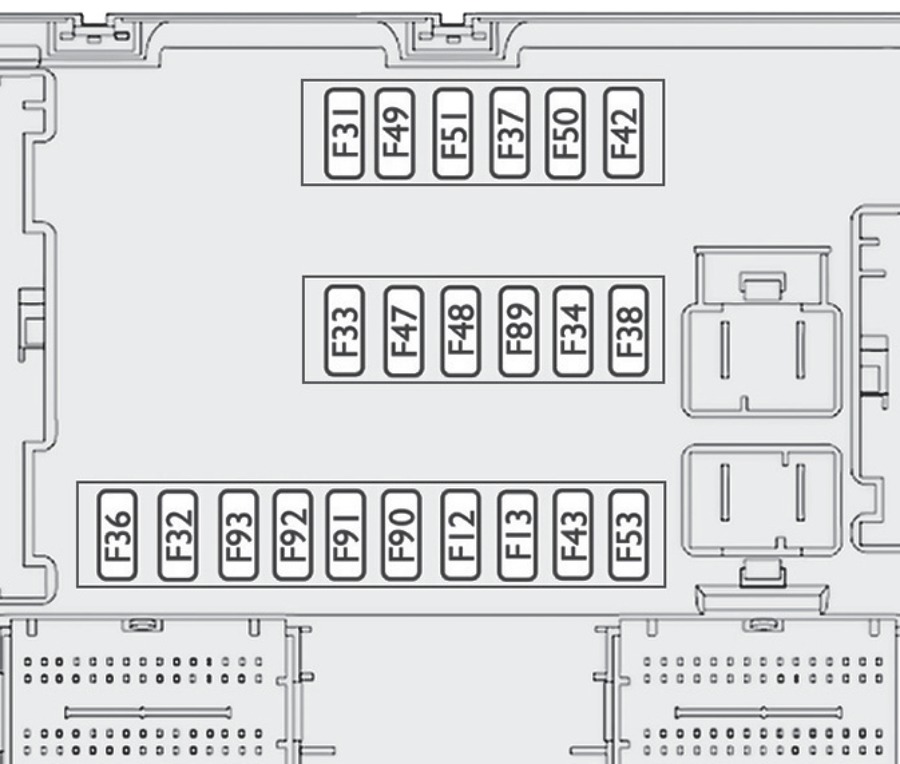 Number

Amperes [A]

Description

12

7.5

Right low beam

13

7.5

Left low beam

32

7.5

Cabin lighting (+ battery)

34

7.5

Minibus cabin lighting;

Emergency lights.

36

10

Audio system;

Air conditioning controls;

Alarm;

Tachograph;

Battery cut-off computer;

Additional heating programmer (+ battery).

37

7.5

Stop light switch;

Third brake light;

Instrument cluster (+ key).

38

twenty

Central locking (+ battery)

42

5

ABS sensor and computer;

ASR system sensor;

DSC system sensor;

Stop lamp switch.

43

twenty

Windshield wiper motor (+ key)

47

twenty

Driver's side electric window motor

48

twenty

Passenger's electric window motor

49

5

Parking assist computer;

Audio system;

Steering wheel switches;

Central and side control panels;

Additional control panel;

Battery cut-off computer (+ key).

50

7.5

Airbag and seat belt pretensioner computer

51

5

Tachograph;

Power steering computer;

Air conditioning;

Reversing lamps;

Water sensor in the diesel filter;

Flow meter (+ key).

53

7.5

Instrument cluster (+ battery)

90

7.5

Left high beam

91

7.5

Right high beam

92

7.5

Left fog light

93

7.5

Right fog light
Fuses in the right pillar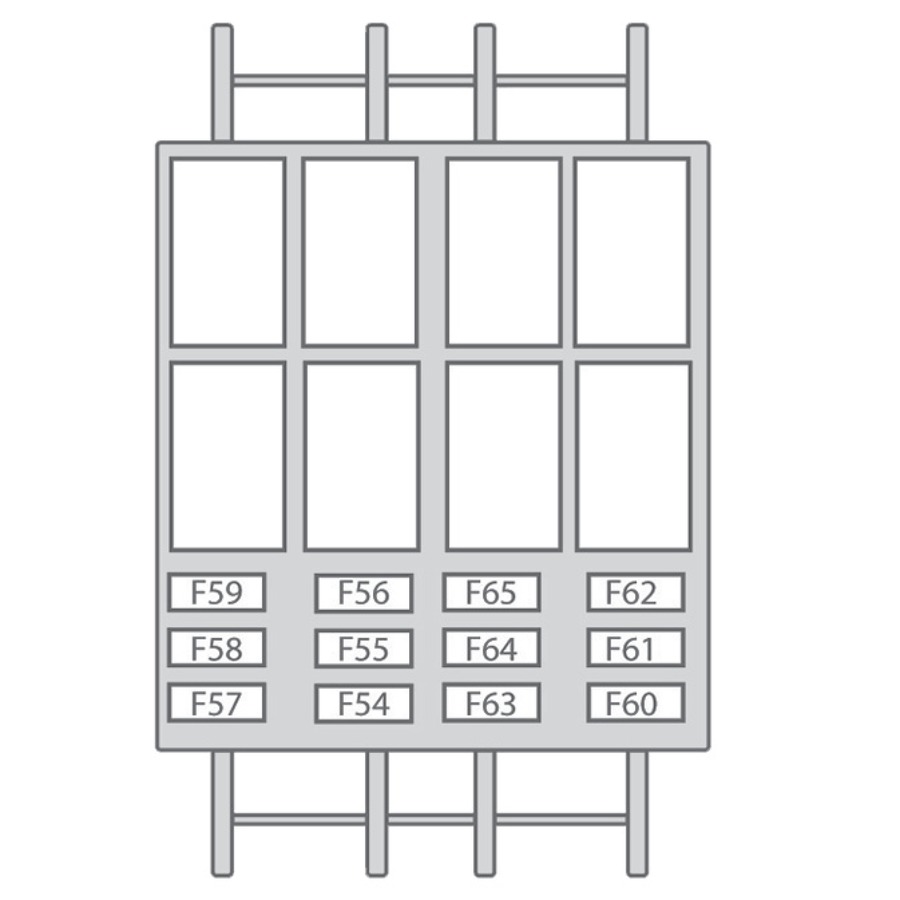 | Number | Amperes [A] | Description |
| --- | --- | --- |
| 55 | 15 | Seat heating |
| 56 | 15 | 12 volt socket in the rear passenger seat |
| 57 | 10 | Additional heating under the seat |
| 58 | 15 | Rear window defrosting on the left side |
| 59 | 15 | Rear window defrosting on the right-hand side |
| 63 | 10 | Rear passenger auxiliary heating control |
| 65 | 30 | Rear passenger auxiliary heater fan |
Fuses in the engine compartment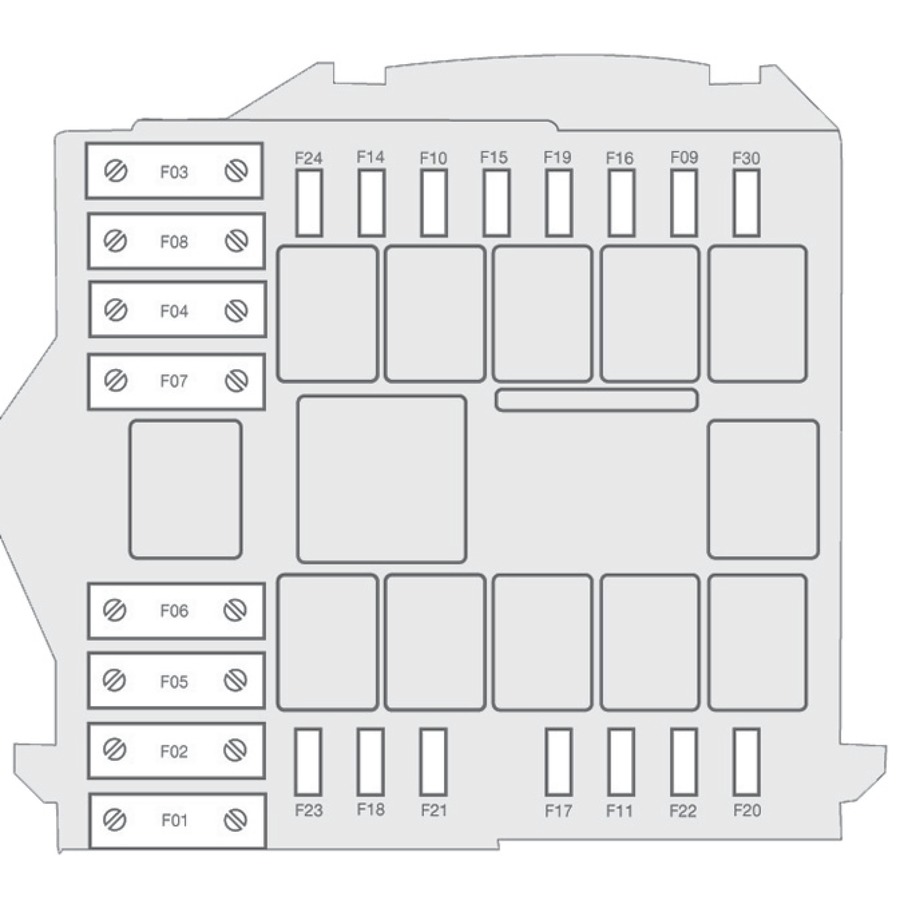 | Number | Amperes [A] | Description |
| --- | --- | --- |
| 1 | 40 | ABS pump power supply |
| 2 | 50 | Glow plug system module |
| 3 | 30 | Ignition switch – starter |
| 4 | 40 | Diesel fuel heater |
| 5 | 20/50 | Cab ventilation with programmable additional heating (+ battery) |
| 6 | 40/60 | Cab cooling fan module – maximum speed (+ battery) |
| 7 | 40/50/60 | Cab cooling fan module – minimum speed (+ battery) |
| 8 | 40 | Cab cooling fan module (+ key) |
| 9 | 15 | Rear 12 V socket (+ battery) |
| 10 | 15 | Sound signal |
| 14 | 15 | Front 12 V socket (+ battery) |
| 15 | 15 | Cigarette lighter (+ battery) |
| 19 | 7.5 | Air conditioning compressor |
| 20 | 30 | Windshield / headlight washer fluid pump |
| 21 | 15 | Fuel pump supply |
| 23 | 30 | ABS solenoid valves |
| 24 | 7.5 | Additional control panel – control and folding of the exterior mirrors (+ key) |
| 30 | 15 | Defrosting the rear-view mirrors |