Polestar 1 (2020-2021) – fuse box
Polestar 1 – fuse box diagram
Year of production: 2020, 2021.
The cigarette lighter fuses (power sockets) on the Polestar 1 are fuses 45 (electrical socket) and 77 (electrical socket in the cargo area) in the fuse box in the passenger compartment.
2020
Fuses in cargo area
Fuses in the cargo area protect, amongst other things, power seats, airbags and seatbelt tensioners.
Number
Description
Ampere [A]
Type
1
Rear window defroster
30

MCase

2
Central electronic module
40

MCase

3
–
–

MCase

4
–
–

MCase

5
–
–

MCase

6
–
–

MCase

7
Electrically operated front passenger seat
20

MCase

8

MCase

9
Power operated boot lid
25

MCase

10
Door module right-hand side front
20

MCase

11
–
–

MCase

12
Seatbelt pretensioner module, right-hand side
40

MCase

13
Internal relay coils
5
Micro
14
Power driver seat
20
Micro
15
–
–
Micro
16
Alcohol lock

*

5
Micro
17

Digital Key

5
Micro
18
–
–

MCase

19
Door module left-hand side front
20

MCase

20
Seatbelt pretensioner module, left-hand side
40
Micro
21
Parking camera

Wide angle view module

5
Micro
22
–
–
Micro
23
–
–
Micro
24
–
–
Micro
25
Supply when the ignition is switched on
10
Micro
26
–
–
Micro
27
–
–
Micro
28
–
–
Micro
29
–
–
Micro
30

Blind Spot Information

(

BLIS

):

control module, exterior reversing sound

5
Micro
31
–
–
Micro
32
Seatbelt pretensioner modules
5
Micro
33
Actuator for exhaust gases (petrol, certain engine variants)
5
Micro
34
Active aerofoil
10
Micro
35
–
–
Micro
36
–
–
Micro
37
–
–

MCase
Fuses in engine compartment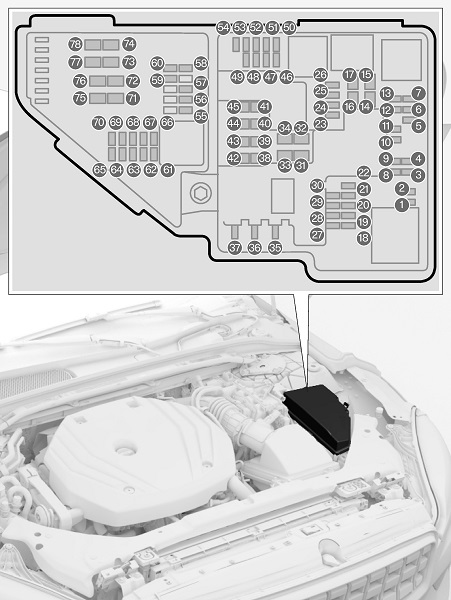 Number
Description
Ampere [A]
Type
1
–
–
Micro
2
–
–
Micro
3
–
–
Micro
4
Control module for actuator for engagement/change of automatic gearbox gear positions
5
Micro
5
Control module for the high-voltage heater of the internal combustion engine's coolant;

High-voltage contactor boxes, right and left.

10
Micro
6
Control module for air conditioning;

Shut-off valve for heat exchanger;

Shut-off valve for coolant that passes through the climate control system

5
Micro
7
Control module for hybrid battery;

High voltage converter for combined high-voltage generator/starter motor front with voltage converter 500 V-12 V

Control module for electric motors on rear axle

10
Micro
8
–
–
Micro
9
Converter for control of the supply to the rear axle's electric motors
10
Micro
10
Control module for hybrid battery;

High voltage converter for combined high-voltage generator/starter motor front with voltage converter 500 V-12 V

10
Micro
11
Charging unit
5
Micro
12
Shut-off valve for the hybrid battery's coolant;

high voltage battery, rear

7,5
Micro
13
Coolant pump for electric drive system
20
Micro
14
Cooling fan for hybrid components
25

MCase

15
Cooling water pump for high voltage battery
25

MCase

16
–
–

MCase

17
–
–

MCase

18
Calculation unit
5
Micro
19
–
–
Micro
20
High voltage battery, rear
5
Micro
21
–
–
Micro
22
–
–
Micro
23
–
–
Micro
24

12 V

socket in tunnel console, front
15
Micro
25

12 V

socket in tunnel console, by legroom for second seat row;

12 V socket in tunnel console, between the rear seats;

USB ports in tunnel console, between the rear seats.

15
Micro
26
–
–
Micro
27
–
–
Micro
28
Left-hand headlamp
15
Micro
29
Right-hand headlamp
15
Micro
30
–
–
Micro
31
–
–

MCase

32
–
–

MCase

33
Headlamp washers
25

MCase

34
Windscreen washers
25

MCase

35
–
–
Micro
36
Horn
20
Micro
37
Siren
5
Micro
38
Control module for brake system (valves, parking brake)
40

MCase

39
Windscreen wipers
30

MCase

40

High-voltage contactor boxes, right and left

25

MCase

41
–
–

MCase

42
Parking heater

*

20

MCase

43
–
–

MCase

44
–
–

MCase

45
–
–

MCase

46
Supplied when the ignition is switched on:

Engine control module; Transmission components; Electric steering servo; Central electronic module

5
Micro
47
Exterior car noise (certain markets)
5
Micro
48
Right-hand headlamp
15
Micro
49
Alcohol lock

*

5
Micro
50
–
–
Micro
51
–
–
Micro
52
Airbags; Passenger weight sensor
5
Micro
53
Left-hand headlamp
15
Micro
54
Accelerator pedal sensor
5
Micro
55
Transmission control module;

Control module for gear selector.

15
Micro
56
Engine Control Module (ECM)
5
Micro
57
–
–
Micro
58
–
–
Micro
59
–
–
Micro
60
–
–
Micro
61
Engine control module; Actuator;

Throttle unit;

Valve for turbocharger.

20
Micro
62
Solenoids;

Valve;

Thermostat for engine cooling system.

10
Micro
63
Vacuum regulators;

Valve for electric bypass:

Valve for ventilation.

7,5
Micro
64
Control unit, spoiler damper;

Control unit, radiator damper

5
Micro
65
–
–
Micro
66
Lambda probe, front and rear
15
Micro
67
Solenoid for engine oil pump;

Magnetic coupling A/C;

Lambda probe front, centre and rear.

15
Micro
68
–
–
Micro
69
Engine Control Module (ECM)
20
Micro
70
Ignition coils;

Spark plugs.

15
Micro
71
–
–

MCase

72
–
–

MCase

73
Control module for transmission fluid pump
30

MCase

74
–
–

MCase

65
Actuator for transmission
25

MCase

76
–
–

MCase

77
–
–

MCase

78
–
–

MCase
Fuses under glovebox
Number
Description
Ampere [A]
Type
1
–
–
Micro
2
–
–

MCase

3
–
–
Micro
4
Movement detector

*

5
Micro
5
–
–
Micro
6
Driver display
5
Micro
7
Keypad in centre console
5
Micro
8
Sun sensor
5
Micro
9
–
–
Micro
10
–
–
Micro
11
Steering wheel module
5
Micro
12
Module for start knob and for parking brake control
5
Micro
13
Steering wheel module for heated steering wheel

*

15
Micro
14
–
–
Micro
15
–
–
Micro
16
–
–
Micro
17
–
–
Micro
18
Control module for climate control system
10
Micro
19
Steering lock
7,5
Micro
20
Diagnostic socket OBDII
10
Micro
21
Centre display
5
Micro
22
Fan module for climate control system, front
40

MCase

23
USB HUB
5
Micro
24
Controls lighting; Interior lighting;

Dimming of interior rearview mirror;

Rain and light sensor;

Keypad in tunnel console, by legroom for rear seat*;

Power front seats;

Control panels in rear doors;

Fan module for climate control left/right.

7,5
Micro
25
Control module for driver support functions
5
Micro
26
–
–
Micro
27
Head-up display
5
Micro
28
Passenger compartment lighting
5
Micro
29
–
–
Micro
30
Display in roof console (Seatbelt reminder/Indicator for airbag on the front passenger seat)
5
Micro
31
–
–
Micro
32
–
–
Micro
33
Controls in the driver's door
20
Micro
34
–
–
Micro
35
Control module for car connected to the Internet;

control module for Polestar Connect.

5
Micro
36
Controls in the passenger door
20
Micro
37
Audio control device (amplifier)
40

MCase

38
–
–

MCase

39
Module for multi-band antenna
5
Micro
40
Modules for seat comfort (massage) front

*

5
Micro
41
–
–
Micro
42
–
–
Micro
43
Control module for fuel pump
15
Micro
44
Relay coils in central electrical unit in engine compartment;

relay coil for transmission fluid pump.

5
Micro
45
Opening the boot lid with a foot movement
5
Micro
46
Seat heating, driver's side front
15
Micro
47
Seat heating, passenger side front
15
Micro
48
Coolant pump
7,5
Micro
49
–
–
Micro
50
Controls in the left-hand door
20
Micro
51
–
–
Micro
52
–
–
Micro
53
Sensus control module
10
Micro
54
–
–

MCase

55
–
–
Micro
56
Controls in the right-hand door
20
Micro
57
–
–
Micro
58
–
–
Micro
59
Primary fuse for infotainment
15
Micro
2021
Fuses in cargo area
Number
Description
Ampere [A]
Type
1
Rear window defroster
30

MCase

2
Central electronic module
40

MCase

3
–
–

MCase

4
–
–

MCase

5
–
–

MCase

6
–
–

MCase

7
Electrically operated front passenger seat
20

MCase

8

MCase

9
Power operated boot lid
25

MCase

10
Door module right-hand side front
20

MCase

11
–
–

MCase

12
Seatbelt pretensioner module, right-hand side
40

MCase

13
Internal relay coils
5
Micro
14
Power driver seat
20
Micro
15
–
–
Micro
16
Alcohol lock

*

5
Micro
17

Digital Key

5
Micro
18
–
–

MCase

19
Door module left-hand side front
20

MCase

20
Seatbelt pretensioner module, left-hand side
40
Micro
21
Parking camera;

Wide angle view module.

5
Micro
22
–
–
Micro
23
–
–
Micro
24
–
–
Micro
25
Supply when the ignition is switched on
10
Micro
26
–
–
Micro
27
–
–
Micro
28
–
–
Micro
29
–
–
Micro
30

Blind Spot Information

(

BLIS

):

control module, exterior reversing sound.

5
Micro
31
–
–
Micro
32
Seatbelt pretensioner modules
5
Micro
33
Actuator for exhaust gases (petrol, certain engine variants)
5
Micro
34
Active aerofoil
10
Micro
35
–
–
Micro
36
–
–
Micro
37
–
–

MCase
Fuses in engine compartment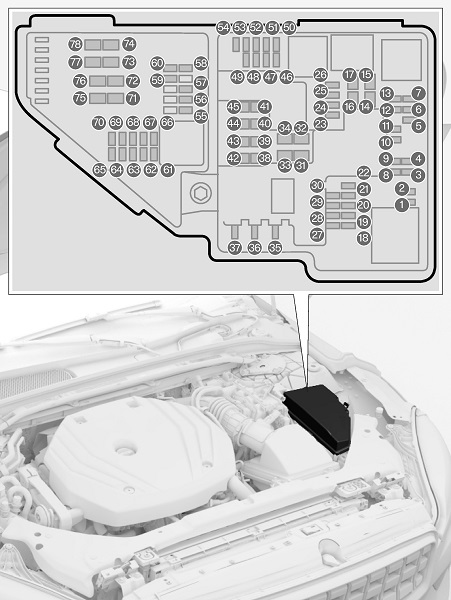 Number
Description
Ampere [A]
Type
1
–
–
Micro
2
–
–
Micro
3
–
–
Micro
4
Control module for actuator for engagement/change of automatic gearbox gear positions
5
Micro
5
Control module for the high-voltage heater of the internal combustion engine's coolant;

High-voltage contactor boxes, right and left.

10
Micro
6
Control module for air conditioning;

Shut-off valve for heat exchanger;

Shut-off valve for coolant that passes through the climate control system.

5
Micro
7
Control module for hybrid battery;

High voltage converter for combined high-voltage generator/starter motor front with voltage converter 500 V-12 V;

Control module for electric motors on rear axle.

10
Micro
8
–
–
Micro
9
Converter for control of the supply to the rear axle's electric motors
10
Micro
10
Control module for hybrid battery;

High voltage converter for combined high-voltage generator/starter motor front with voltage converter 500 V-12 V.

10
Micro
11
Charging unit
5
Micro
12
Shut-off valve for the hybrid battery's coolant; high voltage battery, rear
7,5
Micro
13
Coolant pump for electric drive system
20
Micro
14
Cooling fan for hybrid components
25

MCase

15
Cooling water pump for high voltage battery
25

MCase

16
–
–

MCase

17
–
–

MCase

18
Calculation unit
5
Micro
19
–
–
Micro
20
High voltage battery, rear
5
Micro
21
–
–
Micro
22
–
–
Micro
23
–
–
Micro
24

12 V

socket in tunnel console, front
15
Micro
25

12 V

socket in tunnel console, by legroom for second seat row;

12 V socket in tunnel console, between the rear seats;

USB ports in tunnel console, between the rear seats.

15
Micro
26
–
–
Micro
27
–
–
Micro
28
Left-hand headlamp
15
Micro
29
Right-hand headlamp
15
Micro
30
–
–
Micro
31
–
–

MCase

32
–
–

MCase

33
Headlamp washers
25

MCase

34
Windscreen washers
25

MCase

35
–
–
Micro
36
Horn
20
Micro
37
Siren
5
Micro
38
Control module for brake system (valves, parking brake)
40

MCase

39
Windscreen wipers
30

MCase

40
High-voltage contactor boxes, right and left
25

MCase

41
–
–

MCase

42
Parking heater

*

20

MCase

43
–
–

MCase

44
–
–

MCase

45
–
–

MCase

46
Supplied when the ignition is switched on:

Engine control module; Transmission components; Electric steering servo; Central electronic module

5
Micro
47
Exterior car noise (certain markets)
5
Micro
48
Right-hand headlamp
15
Micro
49
Alcohol lock

*

5
Micro
50
–
–
Micro
51
–
–
Micro
52
Airbags; Passenger weight sensor
5
Micro
53
Left-hand headlamp
15
Micro
54
Accelerator pedal sensor
5
Micro
55
Transmission control module;

Control module for gear selector.

15
Micro
56
Engine Control Module (ECM)
5
Micro
57
–
–
Micro
58
–
–
Micro
59
–
–
Micro
60
–
–
Micro
61
Engine control module; Actuator;

Throttle unit;

Valve for turbocharger.

20
Micro
62
Solenoids; Valve;

Thermostat for engine cooling system.

10
Micro
63
Vacuum regulators;

Valve for electric bypass:

Valve for ventilation.

7,5
Micro
64
Control unit, spoiler damper;

Control unit, radiator damper

5
Micro
65
–
–
Micro
66
Lambda probe, front and rear
15
Micro
67
Solenoid for engine oil pump;

Magnetic coupling A/C;

Lambda probe front, centre and rear.

15
Micro
68
–
–
Micro
69
Engine Control Module (ECM)
20
Micro
70
Ignition coils; Spark plugs
15
Micro
71
–
–

MCase

72
–
–

MCase

73
Control module for transmission fluid pump
30

MCase

74
–
–

MCase

75
Actuator for transmission
25

MCase

76
–
–

MCase

77
–
–

MCase

78
–
–

MCase
Fuses under glovebox
Number
Description
Ampere [A]
Type
1
–
–
Micro
2
–
–

MCase

3
–
–
Micro
4
Movement detector

*

5
Micro
5
–
–
Micro
6
Driver display
5
Micro
7
Keypad in centre console
5
Micro
8
Sun sensor
5
Micro
9
–
–
Micro
10
–
–
Micro
11
Steering wheel module
5
Micro
12
Module for start knob and for parking brake control
5
Micro
13
Steering wheel module for heated steering wheel

*

15
Micro
14
–
–
Micro
15
–
–
Micro
16
–
–
Micro
17
–
–
Micro
18
Control module for climate control system
10
Micro
19
Steering lock
7,5
Micro
20
Diagnostic socket OBDII
10
Micro
21
Centre display
5
Micro
22
Fan module for climate control system, front
40

MCase

23
USB HUB
5
Micro
24
Controls lighting; Interior lighting;

Dimming of interior rearview mirror;

Rain and light sensor;

Keypad in tunnel console, by legroom for rear seat*;

Power front seats;

Control panels in rear doors;

Fan module for climate control left/right.

7,5
Micro
25
Control module for driver support functions
5
Micro
26
–
–
Micro
27
Head-up display
5
Micro
28
Passenger compartment lighting
5
Micro
29
–
–
Micro
30
Display in roof console (Seatbelt reminder/Indicator for airbag on the front passenger seat)
5
Micro
31
–
–
Micro
32
–
–
Micro
33
Controls in the driver's door
20
Micro
34
–
–
Micro
35
Control module for car connected to the Internet;

control module for Polestar Connect.

5
Micro
36
Controls in the passenger door
20
Micro
37
Audio control device (amplifier)
40

MCase

38
–
–

MCase

39
Module for multi-band antenna
5
Micro
40
Modules for seat comfort (massage) front

*

5
Micro
41
–
–
Micro
42
–
–
Micro
43
Control module for fuel pump
15
Micro
44
Relay coils in central electrical unit in engine compartment;

relay coil for transmission fluid pump.

5
Micro
45
Opening the boot lid with a foot movement
5
Micro
46
Seat heating, driver's side front
15
Micro
47
Seat heating, passenger side front
15
Micro
48
Coolant pump
7,5
Micro
49
–
–
Micro
50
Controls in the left-hand door
20
Micro
51
–
–
Micro
52
–
–
Micro
53
Sensus control module
10
Micro
54
–
–

MCase

55
–
–
Micro
56
Controls in the right-hand door
20
Micro
59
–
–
Micro
58
–
–
Micro
59
Primary fuse for infotainment
15
Micro