Renault Megane III (2008-2016) – fuse and relay box
Diagrams of fuse boxes and relays – Renault Megane III
Applies to vehicles manufactured in the years:
2008, 2009, 2010, 2011, 2012, 2013, 2014, 2015, 2016.
The lighter on the Renault Megane III is fuse number F3 (front) and F4 (rear) in the instrument panel fuse box and fuse number 1 in the box in the engine compartment.
Passenger compartment
Main box
It is located in the dashboard on the left side.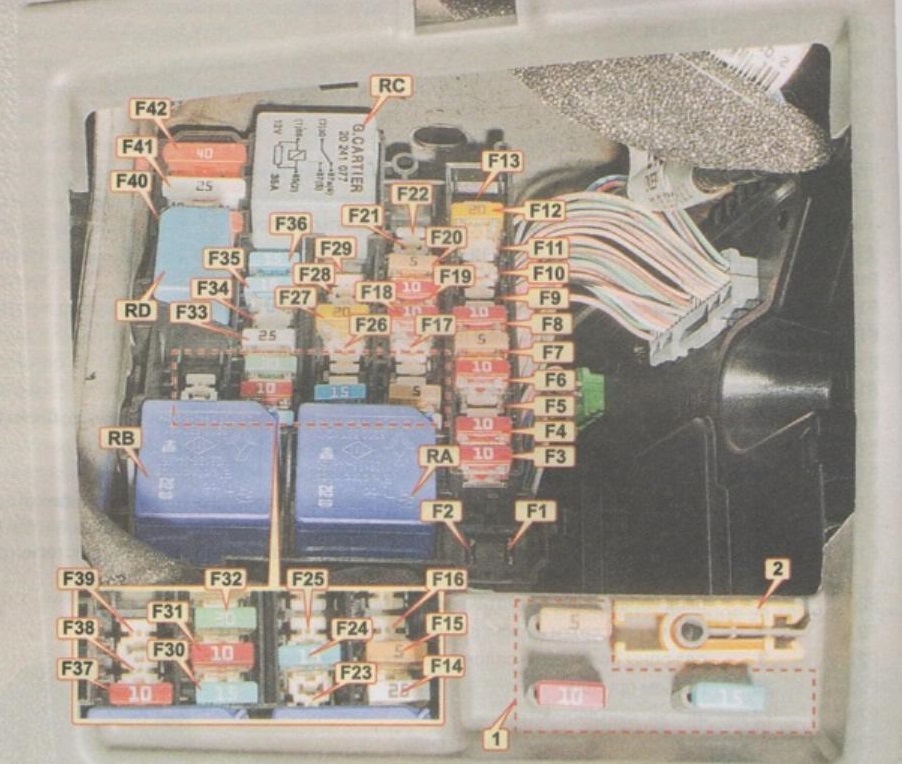 Description
F1
Reserve
F2
Reserve
F3
Cigarette lighter 10A
F4
10A rear socket
F5
10A socket in the trunk
F6
10A audio system
F7
5A electrically heated exterior mirrors
F8
Windshield washer 10A;

Door open indicator.

F9
Automatic parking brake 30A
F10
10A Dashboard cover
F11
Armchair 25A;

Steering column switches.

F12
20A Electrically heated passenger seat
F13
Reserve
F14
25A Passenger's door electric window regulator
F15
5A Brake light switch;

Brake pedal position sensor;

ABS / ESP control unit.

F 16
25A Electric window regulator, right rear door
F17
25A Electric window regulator, rear left door
F18
10A Glove box lamp;

Left lamp in the trunk;

Door lights;

Mirror lights in the sun visor;

Rain sensor.

F19
10A Clock;

Outdoor temperature indicator;

Seat belt warning indicator;

Audio system connector.

F20
5A Air conditioning control unit
F21
3A Mirror lamps in sun visors
F22
3A Lamp covers for interior lamps;

Rain and light sensor.

F23
20A Trailer connector
F24
15A CECBS
F25
3A Interior rearview mirror
F26
10A Navigation system;

CD changer;

Audio system.

F27
20A Audio system;

Parking brake control unit.

F28
Reserve
F29
Reserve
F30
15A UCH;

Direction indicators.

F31
10A CECBS
F32
30A Electric window regulator driver's door
F33
25A UCH;

Central locking.

F34
30A Passenger door of the ECU multiplex network
F35
15A Clock;

Outdoor temperature indicator;

Display.

F36
15A Diagnostic socket;

Horn relay;

Alarm switchboard;

Siren.

F37
10A Braking signals, ECU
F38
Automatic parking brake 30A
F39
Convertible roof ECU 30A
F40
40A air conditioning fan
F41
Electric sunroof 25A
F42
Heated rear window 40A
RA 70А – Power relay (+ battery) with delayed shutdown (without shutdown at startup)
RB 70A – Power relay (+ battery) with delayed switch-off (excluding power at start)
RC 40C – Heated rear window relay
RD 20A – Horn relay
Fuse number.
Additional relays
There may be a separate "+" relay under the passenger seat with the 40A engine running. In this way, a couple of additional heating relays can be placed on the center console heater box.
Engine compartment
Fuse box
The unit is located in the engine junction box (in the engine compartment).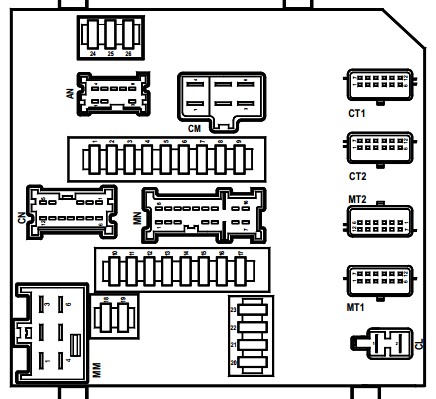 Description
10A – Side light (right headlight, right tail light, headlights), license plate light, cigarette lighter light, power window switch light, audio system, navigation system control unit, multimedia system keyboards
10A – Position light (left headlight, left tail lamp), left lamp on the tailgate
15A – Headlight washer pump
20A – Fog lights
10A – High beam (left block headlight)
10A – High beam (right headlight)
15A – Diagnostic socket, rear window heating relay, automatic transmission mode switch, electric headlamp corrector, gas discharge lamp control unit, auxiliary heating control unit, speed limiter, automatic parking brake, automatic parking control unit, passenger compartment dimmable mirror
30A – For ABS, ESP control units
30A – Front wiper
10A – Airbag control unit
20A – Not used
7,5А – gearbox ECU
25A – Engine management system
15A – Oxygen concentration sensors – heating
20A – Gearbox ECU
5A – Braking signals, electric control unit, electric power steering
10A – Sensor for automatic transmission operating modes, headlamp electrocorrector, reversing lamp relay
15A – Electric devices control unit
30A – Starter
– Not used
20A – Fuel module, ignition coils, LPG ECU
10A – Air-conditioner compressor electromagnetic clutch
5A – ECU injection system
20A – Low beam (left headlight), electro-corrector
20A – Low beam (right headlight), electro-corrector
– Not used
Fuses 24, 25 and 26 on the protection unit may not be replaceable.
Fuse box no.2
It is located in the junction box in the engine compartment under the protection and switching unit.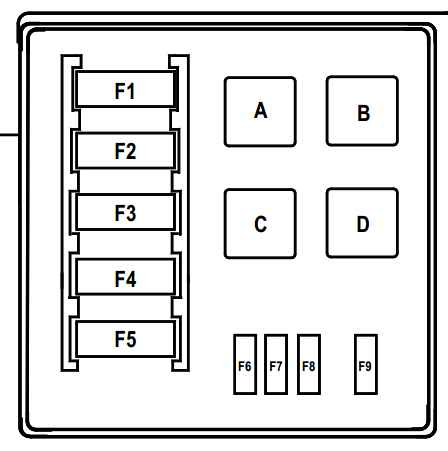 Description
A – Not used
B – Fuel heater relay
C – Reverse lamp relay
D – Not used
F1 – 80A immersion heater control unit
F2 – 70A heating unit
F3 – Not used
F4 – 80A immersion heater control unit
F5 – Fan 60A / 40A relay
F6 – Fuel heater 20A
F7 – Not used
F8 – 30A fan relay
F9 – Not used
The box next to the battery
Battery disconnecting unit (1)
Description
F1 – 190A Starter
F2 – 50A Fuse and relay box in passenger compartment
F3 – 80A Fuse and relay box (control and change-over unit) in engine compartment 1, fuse and relay box in passenger compartment
F4 – 300A / 190A Fuse in engine compartment and 2 relay box / alternator
F5 80A Electric power steering
F6 – 35A electronic engine control unit (ECU) / fuse and relay box (control and switching unit) in engine compartment 1
F7 – 5A fuse and relay box (control and switching unit) in engine compartment 1
High Power Fuse Block (2)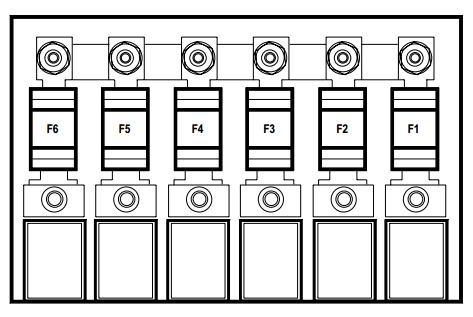 Description
70A – Additional passenger compartment heater
80A – Fuse and relay box in passenger compartment
80A – Fuse and relay box in passenger compartment
80A – Fuse and relay box (control and switch unit) in engine compartment 1, fuse and relay box in passenger compartment
30A – Additional heater
50A – ABS and ESP ECU