Renault Koleos II (2016-2022) – fuse and relay box
Diagrams of fuse and relay boxes – Renault Koleos II
Applies to vehicles manufactured in the years:
2016, 2017, 2018, 2019, 2020, 2021, 2022.
FUSES IN THE CAB AND ON THE LEFT SIDE OF THE VEHICLE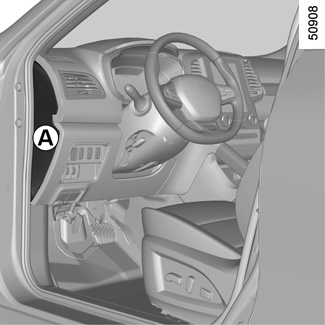 FUSES IN CAB B OF A VEHICLE EQUIPPED WITH A STOP & START SYSTEM
Detach the cover B with a screwdriver type tool.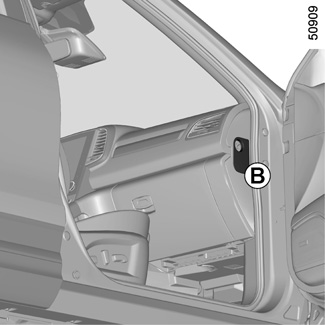 FUSES IN THE CAB AND ON THE RIGHT SIDE OF THE VEHICLE
To access the fuses, remove the glove box. Please contact an Authorized Partner of the brand.
To replace the fuses, follow the instructions on the fuse list label located in compartment A or B.
The replacement of some fuses requires the participation of a qualified specialist. These fuses are not listed on the sticker.
The user may only replace the fuse marked on the sticker.
| Symbol | Description | | | Symbol | Description | | | Symbol | Description |
| --- | --- | --- | --- | --- | --- | --- | --- | --- | --- |
| BLOWER | Ventilation | | | VDC | Dynamic vehicle control | | | H / MIRR | Heated rear view mirrors |
| THE GAMEPLAY TURN | Emergency lights | | | STOP LAMP | Stop light | | | HEATER SEAT | Heated seat |
| 2ND POWER SOCKET | 2.power socket | | | POWER DR LOCK2 | Central door locking | | | EC AUTO ACC | Air conditioning control module |
| REAR WIPER | Rear window wiper | | | CIGAR LIGHTER | Lighter | | | REAR VIEW | Rearview mirror |
| POWER DR LOCK | Central door locking | | | HEAT STEER WHEEL | Heated steering wheel | | | WASH MTR | Washer motor |
| ELEC B, B2 | Electrical equipment | | | RR DEF | Electric rear window defrosting | | | GEAR BOX OIL PUMP | Gearbox oil pump |
| IMOB | Immobilizer system | | | BOSE | Bose amplifier | | | BCM | Upright module in the cabin |
| AUDIO | Audio | | | ACC RADIO | Accessory socket, radio | | | POWER WINDOW | Electric window lifters |
| ABS / EPS | Anti-lock braking system | | | JUNCTION MODULE | Connection module | | | SEAT BELT WARNING | Seat belt reminder function |
| MEDIA | MULTIMEDIA EQUIPMENT | | | AIR CON | Air conditioning control module | | | STRG WHEEL ANGLE | Steering angle sensor |