Saab 9-5 (2006-2009) – fuse and relay box
Fuse and Relay Box Diagrams – Saab 9-5
Applies to vehicles manufactured in the years:
2006, 2007, 2008, 2009.
The cigarette lighter (s) on the Saab 9-5 is fuse number 34 in the instrument panel fuse box.
Instrument panel
The fuse box is located behind the cover on the driver's side in the instrument panel.
The relay panel is located under the dashboard.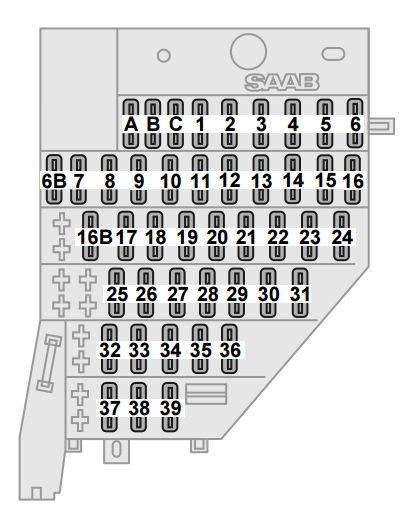 Number
Amperes [A]
Description
A
30
Trailer lights
B
10
Automatic gearbox
C.
7.5
Electric door mirrors;

DICE:

manual light length adjustment.

1
15
Brake lights;

Parking brake shift lock (cars with automatic transmission).

2
15
Reversing lamps
3
10
Left parking and rear lights
4
10
Right parking and rear lights
5
7.5
"DICE / TWICE"
6
30
Electric windows, right;

Loading the trailer

6B
7.5
Trailer brake lamps
7
10
Engine injectors
8
15
Luggage compartment lighting;

Trunk lock;

Door lighting;

Parking assistant;

SID

9
15
Sound system;

CD changer.

10
15
Rear seat heating;

Remote control receiver with sunroof

11
30
Electrically adjustable passenger seat
12
7.5
Automatic Transmission
13
20
Audio system;

Amplifier.

14
30
Ignition system, engine
15
20
Fuel pump
16
20
DICE (turn signals)
16B
–
OnStar
17
20
Engine management system;

Main instrument;

"DICE / TWICE"

18
40
Heated door mirrors;

Rear window heating.

19
10
OnStar;

Telematics.

20
15
ACC;

Indoor lighting;

Rear fog light;

High beam blinker.

21
10
Sound system;

Rearview mirror;

Load angle sensor;

Navigation;

Cruise control.

22
40
Internal fan
23
15
Central lock;

Navigation ;

Memory for exterior mirrors.

24
20
Main light switch
25
30
Electrically adjustable driver's seat
26
7.5
Driver seat memory;

Mirror memory;

Parking assistant;

Sunroof;

Seat belt reminder;

ACC /

27
10
Engine management system;

SID ID;

The main instrument.

28
7.5
Airbag
29
7.5
ABS / ESP
30
7.5
Starter;

Transmission control module (cars with automatic transmission)

31
7.5
Cruise control;

Water valve;

Front fog lamps;

Rain sensor.

32
–
–
33
7.5
Direction indicator switch
34
30
12 V socket (cigarette lighter) front / rear
35
15
Daytime running lights
36
30
Electric windows, left
37
30
Wipers
38
30
Electric heating, front seats
39
20
Limp-home electromagnet
Relay panel
| Number | Description |
| --- | --- |
| A | – |
| b | Electric rear seat heating |
| C1 | – |
| C2 | – |
| D | – |
| E. | Main relay (engine management system) |
| F. | – |
| g | Fuel pump |
| h | Ignition switch |
| i | Heated rear window and side mirrors |
| J. | – |
| K. | Starter relay |
| L1 | Emergency mode function |
| L2 | – |
Fuse box in the engine compartment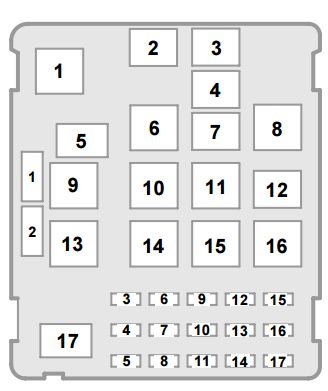 Number
Amperes [A]
Description
1
40
Radiator fan, high speed
2
40
ABS / ESP
3
30
ABS / ESP
4
7.5
Load angle sensor (cars with xenon headlights)
5
15
Heater
6
10
Air conditioning;

Car alarm siren.

7
15
Bulb test
8
–
–
9
20
Headlight washers
10
15
Left high beam headlamp
11
15
Left dipped beam headlamp
12
15
Right high beam headlamp
13
15
Right dipped beam headlamp
14
30
Radiator fan, high speed
15
15
Fog lights (front spoiler)
16
30
Rear wiper
17
15
Horn
18
–
–
Relays:
1
Bulb test;

Reflector;

High beam blinker

2
Headlight washer
3
Front fog lamps
4
Rear wiper (9-5 SportWagon)
5
–
6
–
7
Rain sensor
8
Radiator fan, low speed
9
Radiator fan, high speed
10
Air conditioning compressor
11
Radiator fan, high speed, right fan
12
Horn
13
Additional lights (accessories)
14
High beam headlamp
15
Dipped beam headlamp
16
–
17
Wipers