Smart Fortwo and Forfour W453 (2014-2019) – fuse and relay box
Diagrams of fuse and relay boxes – Smart Fortwo and Forfour
Applies to vehicles manufactured in the years:
2014, 2015, 2016, 2017, 2018, 2019.
The cigarette lighter (power socket) fuse on the Smart Fortwo and Forfour is fuse number 12 in the passenger compartment fuse box.
Fuse box in passenger compartment
Location of the fuse box
The fuse box is located in the storage compartment behind the cover.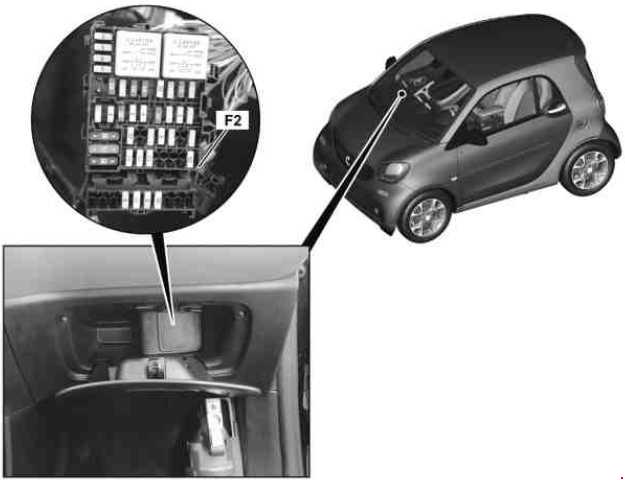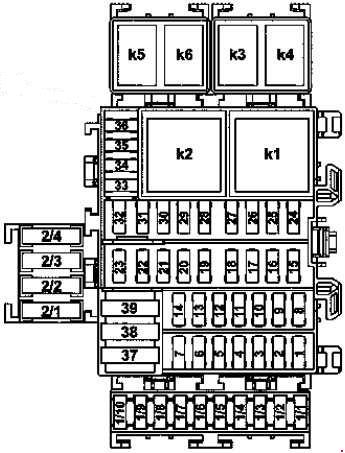 Number
Description
Amperes [A]
1
Rear roof rack electrical connection
20
2
Reserve
–
3
Reserve
–
4
Reserve
–
5
SAM control unit on the driver's side
25
6
SAM control unit on the driver's side
25
7
SAM control unit on the driver's side
25
8
SAM Central Control Unit;
Radio;
Radio through the connector sleeve to terminal 15 R.
15
9
Reserve
–
10
Horn
15
11
Battery sensor and SAM control unit on driver's side
5
12
Front cigarette lighter with ashtray illumination
15
13
Reserve
–
14
Internal combustion engine:
Automatic transaxle protected by a connector sleeve for circuit 30;
Diagnostic connector;Electric Vehicle:
Fuse Circuit 30;Connector sleeve;

Diagnostic connector.

20
15
Power supply for fuse circuit 30 connector sleeve
15
16
Internal combustion engine Engine
electronics protected by connector sleeve for circuit 30;Electric vehicle:
Power supply for fuse circuit 30;Connector sleeve.
5
17
Power supply protected by a connector sleeve for circuit 30
15
18
Brake light switch
10
19
Outside mirror adjustment switch
5
20
Transponder coil;
Electronic stability program control unit and brake light switch;
Connector sleeve protected for circuit 30.
3
21
Light functions protected by connector sleeve for circuit 30
10
22
Steering angle sensor;

Dual-clutch gearbox control unit.

5
23
Reserve
–
24
SAM Central Control Unit
15
25
SAM Central Control Unit
10
26
SAM Central Control Unit
15
27
SAM Central Control Unit
20
28
SAM control unit on the driver's side
10
29
SAM control unit on the driver's side
10
30
Combination switch;
Alarm siren;
Fuse circuit power supply;Connector sleeve 30 (electric vehicle).
15
31
Instrument cluster and additional instruments
10
32
Reserve
–
33
Supplemental restraint system control unit
5
34
Combination switch
5
35
Electric power steering controller
5
36
SAM Central Control Unit
5
37
SAM control unit on the driver's side
30
38
A / C power solenoid switch
40
39
Internal combustion engine starter, via starter relay
30
39
Electric vehicle:
blower motor
40
1/1
Electric vehicle: Vehicle electrical
circuit 30;Connector sleeve feed.
10
1/2
Electric vehicle:
brake booster vacuum pump control unit
power electronics control
–
1/3
Reserve
–
1/4
Sound system amplifier control unit
20
1/5
Engine:

Dual-clutch gearbox control unit;

Electric vehicle: Electric
drive control unit.

5
1/6
Left front power window motor and right front power window motor
25
1/7
Left electrically adjustable and heated outside mirror and right electrically adjustable and heated outside mirror
5
1/8
Electric vehicle:
Front passenger seat heating control unit;Driver seat heating control unit.
25
1/9
Reserve
–
1/10
Electric vehicle: steering wheel heater relay
–
2/1
Power supply to the drive unit of the soft roof
20
2/2
Power supply to the drive unit of the soft roof
20
2/3
Reserve
–
2/4
Reserve
–
Relays
K1
Heated rear window / exterior mirrors relay
K2
Electric windshield relay
K3
Roof sliding relay
K4
Headlight relay
K5
Starter relay
K6
Fanfare horn relay
K.
Electric vehicle: steering wheel heater relay
Fuse box in the engine compartment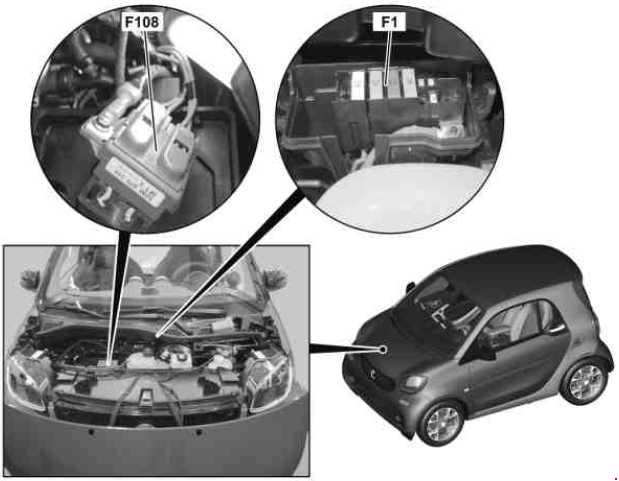 Main fuses (battery terminal)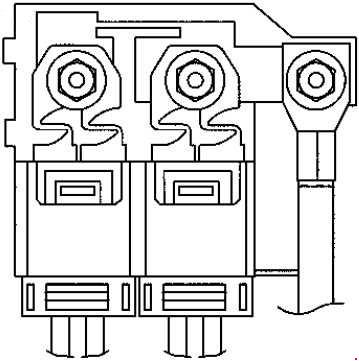 Number
Description
Amperes [A]
F1
Combustion engine:
3A electric fuse (F108f3A) and 3B electric fuse (F108f3B);Electric vehicle:
Mains fuse and relay module (F1);
DC / DC converter control unit.
200
F2A
Vehicle interior fuse and relay module power supply (F2);
Protected by a connector sleeve for circuit 30;
Connector sleeve for circuit 30.
70
F2B
Electric power steering controller
60
F3A
Vehicle interior fuse and relay module power supply (F2);
Ignition switch;
Secured by a connector sleeve for circuit 30;
Connector sleeve for circuit 30.
70
F3B
Electronic stability program control unit
50
Fuse / relay module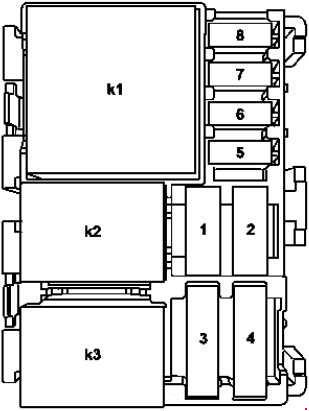 | Number | Description | Amperes [A] |
| --- | --- | --- |
| 1 | Internal combustion engine relay module | Diode |
| 2 | Vacuum pump relay feed (for USA) | Diode |
| 3 | Fuel pump with fill level sensor and temperature sensor | 20 |
| 4 | Power supply for fuse circuit 30 connector sleeve | 25 |
| 5 | Power supply for connector sleeves for circuit 87 | 15 |
| 6 | Refrigerant compressor relay | 15 |
| 7 | Fan relay by fan | 10 |
| 8 | Dual-clutch gearbox control unit | 10 |
| | | |
| Relays | | |
| K1 | Engine function circuit 87 relay | |
| K2 | Fan relay | |
| K3 | Ignition coils / fuel pump start relay | |
| K4 | – | |
Fuses and Relays Assignment in Engine Compartment Fuse / Relay Module (Electric Vehicle)
Number
Description
Amperes [A]
1
Reserve
–
2
Transmission mode recognition sensor;

Electric drive controller.

15
3
Electric vehicle drive motor fan relay
40
4
Battery cooling system coolant pump relay
30
5
Coolant pump for the battery cooling system
15
6
Applies to electric vehicles:
Battery management system control unit;Electric drive control unit.
5
7
Power supply power electronics control unit power connector power supply sleeve
20
8
Circuit 87 power connector sleeve
15
Relays
K1
Engine function circuit 87 relay
K2
Fan relay
K3
Ignition coils / fuel pump start relay
K4
Battery cooling system coolant pump relay
Rear fuse / relay module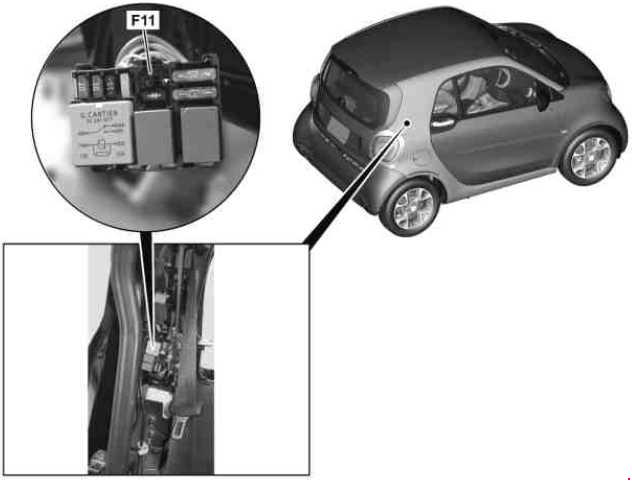 Number
Description
Amperes [A]
1
Heated rear window above heated rear window / door mirrors relay
30
2
Combustion engine:
Front passenger seat heater control unit;Driver seat heater control unit;Electric vehicle:
Brake servo vacuum pump control unit.
30
3
Power supply for the control unit of the electronic stabilization program
25
4
Electric vehicle:
Spare electric fuse 1 and electric fuse 2
40
4
Internal combustion engine:
sliding roof relay
25
5
Combustion engine fuse and relay module power supply
60
6
Internal combustion engine:
Dual-clutch gearbox control unit;
Protected by a connector sleeve for circuit 30.
50
6
Electric vehicle: Vehicle interior fuse and relay module power supply
40
7
Fan motor

Above the fan relay

30
7
The fan solenoid switch
cooling the ICE combustion engine
30
8
Reserve
–
9
Combustion engine:
Secondary air injection pump (for USA);Electric Vehicle:
High Voltage Battery Heater;
High voltage battery overheat relay.
60
K1
Fan relay