Suzuki Baleno (2015-2019) – fuse and relay box
Diagrams of fuse boxes and relays – Suzuki Baleno
Applies to vehicles manufactured in the years:
2015, 2016, 2017, 2018, 2019.
The cigarette lighter (power outlet) fuse on the Suzuki Baleno is fuse # 12 or # 32 (ACC-2) in the instrument panel fuse box.
Fuse box in passenger compartment
It is located under the left side of the dashboard.
Fuse box diagram (v.1)
(Without Keyless Start System or Keyless Entry System)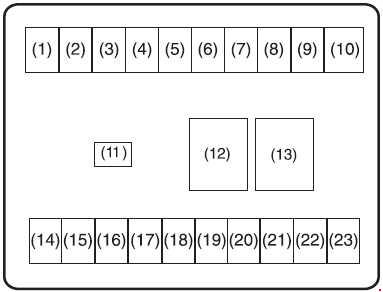 | Number | Amperes [A] | Description |
| --- | --- | --- |
| 1 | 10 | Spare light |
| 2 | 15 | The ignition coil |
| 3 | 10 | Meter |
| 4 | 10 | Mat |
| 5 | 5 | Ignition signal-2 |
| 6 | 15 | Sprinkler |
| 7 | 25 | Front wiper |
| 8 | 10 | Tail light |
| 9 | 10 | Emergency lights |
| 10 | 10 | Stop lights |
| 11 | 30 | Power windows |
| 12 | 15 | ACC-2 |
| 13 | 5 | ACC |
| 14 | 5 | Starting signal |
| 15 | 10 | Ignition signal-1 |
| 16 | 10 | Airbag |
| 17 | 5 | ABS control module (if equipped) |
| 18 | 15 | Horn |
| 19 | 20 | Door lock |
| 20 | 25 | Rear window defogger |
| 21 | 15 | Radio |
| 22 | 5 | Dome light |
| 23 | 10 | Dome Light-2 |
Fuse box diagram (v.2)
(With keyless push start system or keyless entry system)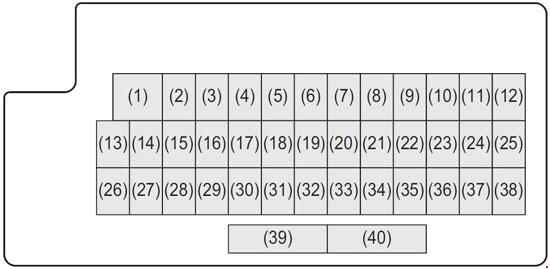 | Number | Amperes [A] | Description |
| --- | --- | --- |
| 1 | 30 | Power windows |
| 2 | 10 | Meter |
| 3 | 15 | The ignition coil |
| 4 | 5 | Ignition signal-1 2 |
| 5 | – | Not used |
| 6 | – | Not used |
| 7 | – | Not used |
| 8 | 20 | Door lock |
| 9 | 15 | Steering wheel lock |
| 10 | 10 | Emergency lights |
| 11 | 5 | A-STOP controller |
| 12 | 10 | Rear fog lamp |
| 13 | 5 | ABS control module |
| 14 | 15 | Seat heating |
| 15 | 5 | Ignition signal-1 3 |
| 16 | 10 | Dome Light-2 |
| 17 | 5 | Dome light |
| 18 | 15 | Radio |
| 19 | 5 | CONT |
| 20 | 5 | The 2 key |
| 21 | 20 | Window timer |
| 22 | 5 | Key |
| 23 | 15 | Horn |
| 24 | 5 | Tail light (left) |
| 25 | 10 | Tail light |
| 26 | 10 | Airbag |
| 27 | 10 | Ignition signal-1 |
| 28 | 10 | Spare light |
| 29 | 5 | ACC-3 |
| 30 | 20 | Rear defogger |
| 31 | 10 | Heated mirrors |
| 32 | 15 | ACC-2 |
| 33 | 5 | ACC |
| 34 | 10 | Mat |
| 35 | 5 | Ignition signal-2 |
| 36 | 15 | Sprinkler |
| 37 | 25 | Front wiper |
| 38 | 10 | Stop lights |
| 39 | – | Not used |
| 40 | 25 | Rear defogger 2 |
Fuse box in the engine compartment
Main fuses (located on the battery)
Fuse boxes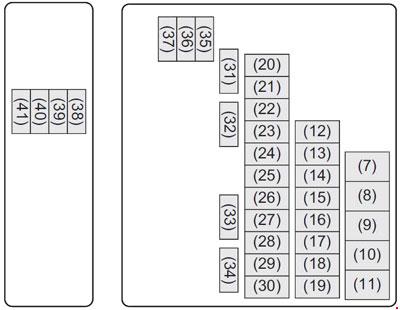 | Number | Amperes [A] | Description |
| --- | --- | --- |
| 1 | 120 | FL1 |
| 2 | 100 | FL2 |
| 3 | 80 | FL3 |
| 4 | 100 | FL4 |
| 5 | 50 | FL5 |
| 6 | 150 | FL6 |
| 7 | 30 | Engine start |
| 8 | 30 | Fan blowers |
| 9 | 40 | Battery |
| 10 | 40 | ABS engine |
| 11 | 40 | Ignition switch |
| 12 | 30 | B / U |
| 13 | 30 | Auxiliary battery |
| 14 | – | Not used |
| 15 | – | Not used |
| 16 | 25 | ABS control module |
| 17 | 15 | Headlight (left) |
| 18 | 15 | Headlight (right) |
| 19 | – | Not used |
| 20 | – | Not used |
| 21 | 30 | Radiator fan |
| 22 | 60 | Power steering |
| 23 | 5 | ECM |
| 24 | 20 | Fuel pump |
| 25 | 20 | Front fog lamp |
| 26 | 10 | Air compressor |
| 27 | 50 | Ignition switch 2 |
| 28 | 15 | Transmission |
| 29 | 15 | FI (GAZ) |
| 29 | 30 | Principal FI (DIESEL) |
| 30 | 15 | CVT pump |
| 31 | – | Not used |
| 32 | – | Not used |
| 33 | 5 | Starting signal |
| 34 | – | Not used |
| 35 | 20 | INJ DRV (DIESEL) |
| 36 | – | Not used |
| 37 | 10 | FI (DIESEL) |
| 38 | – | Not used |
| 39 | 25 | High headlight |
| 40 | 15 | High headlight (right) |
| 41 | 15 | High headlight (left) |