Volkswagen Golf VII (2013-2020) – fuse box
Volkswagen Golf VII (2013-2020) – fuse box diagram
Year of production: 2013, 2014, 2015, 2016, 2017, 2018, 2019, 2020.
The cigarette lighter fuses (power sockets) in the Volkswagen Golf VII are fuses # 40 (cigarette lighter, 12V sockets), # 46 (230V socket) and # 16 (USB ports) in the fuse box in the dashboard.
Fuse box in passenger compartment
Location of the fuse box
The fuse box is located behind the glove box on the driver's side (LHD). Open the glove box, squeeze the sides and pull it towards you to access the fuses.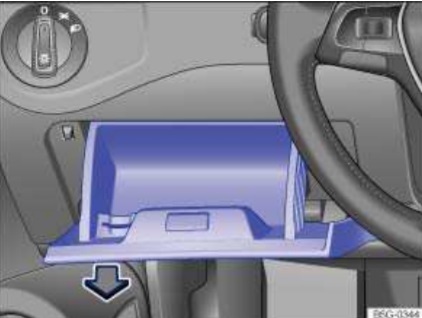 The scheme of the fuse box
Arrangement of fuses in the instrument panel
Number
Description
1
Reduction heater control module
2
Not used
3
Not used
4
Vehicle electrical system control module;

Anti-theft alarm system;

5
Built-in data bus diagnostic interface
6
Gear stick;

Anti-theft alarm sensor.

7
HVAC control;

Heated rear window relay.

8
Rotary light switch;

Rain and light sensor;

Diagnostic connector;

Alarm sensor.

9
Steering column electronics control module
10
Infotainment screen (front)
11
Left front seat belt pretensioner control module;

Wheel drive control module.

12
Information electronics control module
13
Electronic damping control module
14
Fresh air blower control module
15
Electronic steering column lock control module
16
USB ports;

Telephone.

17
Instrument cluster;

Emergency call control module.

18
Rear view camera;

Back cover release button.

19
Access to the boot system interface
20
Relay for reducing agent dosing system
21
Wheel drive control module
22
Not used
23
Vehicle electrical system control module;

Right front headlight MX2.

24
Electrically operated sunroof
25
Driver and passenger door module;

Rear window regulator.

26
Vehicle electrical system control module;

Front heated seat.

27
Sound system
28
Towing hitch
29
Not used
30
Left front seat belt pretensioner control module
31
Vehicle electrical system control module;

Left front headlight MX1.

32
Front camera;

Distance sensor;

Parking aid;

Blind spot detection.

33
Airbag control module;

Passenger airbag deactivation indicator light;

Passenger presence sensor.

34
Rotary light switch;

Interior rearview mirror;

Relay of sockets;

Hazard warning lights switch;

Refrigerant pressure sensor;

Air quality sensor;

Center console switch;

Parking brake button.

35
Diagnostic connector;

Headlight range control;

Dashboard lighting regulator;

Auto-dimming interior rearview mirror;

Cornering lamp;

Headlamp range control module;

Right and left headlight beam adjustment.

36
Right daytime running light and parking light control module
37
Left daytime running lamp and parking light control module
38
Towing hitch
39
Front door control module;

Left and right rear window regulator motor.

40
Cigarette lighter, 12 V sockets
41
Steering column electronics control module;

Front right seat belt tensioner control module.

42
Vehicle electrical system control module;

Central lock.

43
Vehicle electrical system control module;

Interior lighting.

44
Towing hitch
45
Front seat adjustment
46
AC-DC converter (230 V power socket)
47
Rear window wiper
48
Not used
49
Clutch pedal position sensor;

Starter relay 1;

Starter relay 2.

50
Not used
51
Front right seat belt tensioner control module
52
Not used
53
Heated rear window
Fuse box in the engine compartment
The scheme of the fuse box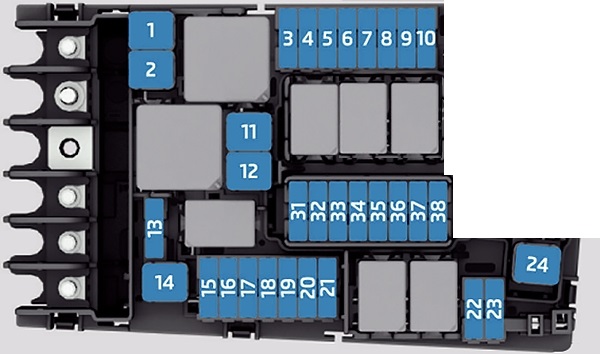 Arrangement of fuses in the engine compartment
Number
Description
1
ABS control module
2
ABS control module, hydraulic pump
3
Engine control unit (ECU)
4
Oil level sensor;

Coolant fan module;

EVAP regulator valve;

Camshaft adjustment. valve;

Exhaust camshaft adjustment;

Oil pressure valve;

High / low heat output relay;

EGR cooler reversing valve;

#75 Wastegate bypass valve regulating valve;

Ethanol concentration sensor;

Cylinder inlet;

Exhaust camshaft adjustment.

5
Fuel pressure reg. valve # 276;

Fuel metering valve # 290.

6
Brake light switch
7
Fuel pressure reg. valve;

Charge air cooling pump, reg. valve;

Cooling circuit solenoid valve;

Heater booster pump.

8
O2 sensors;

MAF sensor.

9
Ignition coils;

Lighting time control module;

Fuel evaporation.

10
Fuel pump control module
11
Electric auxiliary heating element
12
Electric auxiliary heating element
13
Automatic Transmission (DSG)
14
Heated windscreen (front)
15
Horn relay
16
Not used
17
ECU;

ABS control module;

Terminal 30 relay.

18
Battery monitoring control module;

J533 data bus interface.

19
Windshield wipers (front)
20
Burglar alarm
21
Not used
22
Engine control unit (ECU)
23
Starter
24
Electric auxiliary heating system
31
Not used
32
Not used
33
Not used
34
Not used
35
Not used
36
Not used
37
Auxiliary heater control module
38
Not used