Audi A3 / S3 8V (2013-2018) – fuse box
Audi A3 / S3 8V (2013-2018) – fuse box diagram
Year of production: 2013, 2014, 2015, 2016, 2017, 2018.
The fuse for the cigarette lighter / power socket on the Audi A3 / S3 is fuse No. F40 in the instrument panel.
Location of the fuse box
Passenger compartment
Vehicles with the steering wheel on the left side: located behind a cover in the vicinity of the steering column.
Right-hand drive vehicles: located behind the glove compartment lid.
Engine compartment
Located in the engine compartment (left side)
Diagrams of fuse boxes
2013
Instrument panel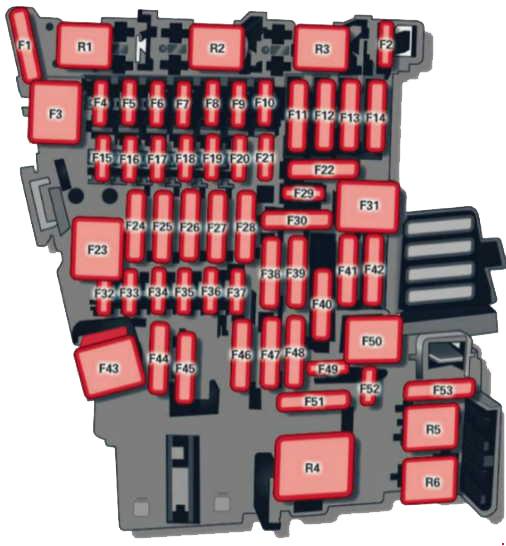 Fuses Assignment in Instrument Panel (2013)
Number
Description
Amperes [A]
F2
Seat adjustment
10
F3
Soft top hydraulic pump (Cabriolet)
40
F4
MMI control console;

MMI components.

7.5
F5
CAN gateway
5
F6
Anti-theft alarm system
5
F7
Air conditioner / heater console;

Gear lever (automatic gearbox);

Parking heating;

Heated rear window relay coil.

10
F8
Diagnostics;

Electronic parking brake switch;

Light switch;

Rain and light sensor;

Interior lighting.

10
F9
Steering column switch module
1
F10
Display
5
F11
Reversible belt tensioners (driver's side)
25
F12
MMI system
15/20
F13
Control unit to control the suspension
20
F14
Air conditioner blower
30
F15
Electric steering column lock
10
F 16
MMI system
7.5
F17
Instrument cluster
5
F18
Reversing camera
7.5
F19
Control unit for convenient key system
7.5
F23
Outdoor lighting (right side)
40
F24
Panoramic Roof / Soft Top Control (Cabriolet)
20/30
F25
Driver's side door (e.g. power windows)
30
F26
Seat heating
30
F27
Sound amplifier
30
F28
Softtop control unit, electronics (Cabriolet)
5
F29
Interior lights
7.5
F31
Outdoor lighting (left side)
40
F32
Driver assistance systems
7.5
F33
Airbag
5
F34
Button / switch LEDs;

Neck heating relay coil (Cabriolet);

Electric socket relay;

Interior sound;

Reverse light switch;

Temperature sensor;

Oil level sensor.

7.5
F35
Diagnostics;

Headlight range control;

Air quality sensor;

Automatic anti-glare mirrors.

10
F36
Cornering light (right side);

LED headlight (right side).

15
F37
Cornering light (left side);

LED headlight (left side).

15
F39
Passenger's side door (e.g. power windows)
30
F40
Lighter;

Electric sockets.

20
F41
Reversible belt tensioners (front passenger side)
25
F42
Central lock
40
F43
Windshield washer system
30
F44
Four-wheel drive
15
F45
Electric seat (driver's side)
15
F47
Rear window wiper
15
F49
Starter;

Clutch sensor.

5
F53
Rear window heating
30
Engine compartment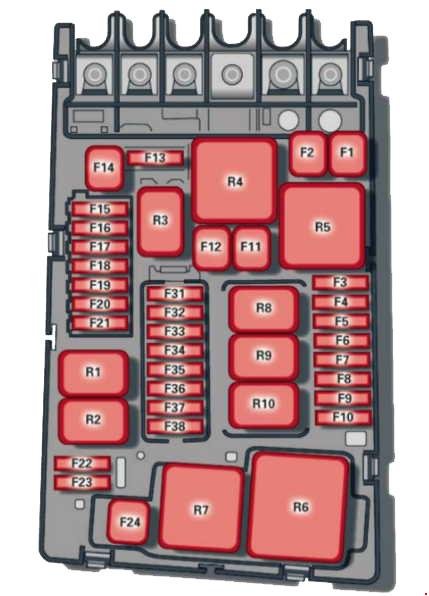 Fuse assignment in engine compartment (2013)
Number
Description
Amperes [A]
F1
ESC control unit
40
F2
ESC control unit
40
F3
Engine control unit (petrol / diesel)
15/30
F4
Engine cooling, engine components;

Additional heater relay coils (1 + 2);

Secondary air pump relay.

5/10
F5
Engine components, tank system
7.5 / 10
F6
Brake light sensor
5
F7
Engine components, coolant pumps
7.5 / 10/15
F8
Lambda probe
10/15
F9
Engine components;

Exhaust flap;

Automatic glow period control unit.

5/10/20
F10
Fuel injectors, fuel controller
15/20
F11
Backup heater, heater 2
40
F12
Backup heater, heater 3
40
F13
Automatic gearbox control unit
15/30
F15
Horn
15
F 16
The ignition coil;

CNC shut-off valve (natural gas engine).

20 / 7.5
F17
ESC control unit, engine control unit
7.5
F18
Terminal 30 (reference voltage)
5
F19
Wipers
30
F20
Horn
10
F22
Terminal 50, diagnostics
5
F23
Starter
30
F24
Backup heater, heater 1
40
F31
Vacuum pump
15
F32
LED headlights
5
F37
Auxiliary heating
20
2015
Instrument panel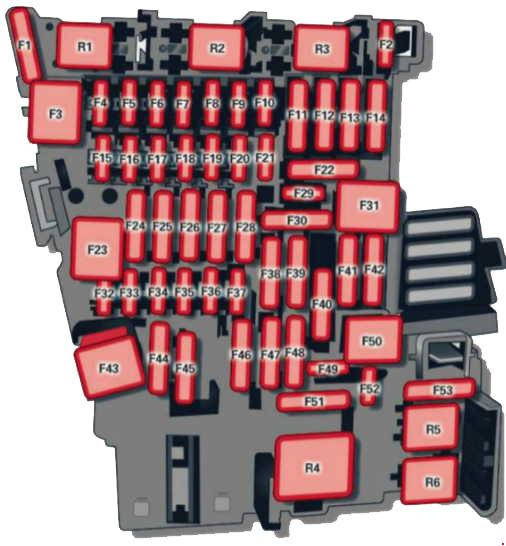 Fuses Assignment in Instrument Panel (2015)
Number
Description
Amperes [A]
F1
Engine components
30
F2
Seat adjustment
10
F3
Hydraulic pump cover (convertible)
40
F4
MM control, MMI components
7.5
F5
CAN gateway
5
F6
Anti-theft alarm system
5
F7
Air conditioning / heating control;

Gear lever (automatic gearbox);

Parking heating;

Heated rear window relay coil.

10
F8
Diagnostics;

Electric parking brake switch;

Light switch;

Rain and light sensor;

Indoor lighting.

10
F9
Steering column switch module
1
F10
Display
5
F11
Reversible seat belt tensioners on the driver's side
25
F12
MMI area
15/20
F13
Adaptive damper control module
20
F14
Air conditioning blower
30
F15
Electronic steering column lock
10
F 16
MMI area
7.5
F17
Instrument cluster
5
F18
Rear camera
7.5
F19
Control unit for convenient key system;

Tank system

7.5
F20
Tank system
7.5
F21
–
–
F22
–
–
F23
External lighting;Heated washer fluid nozzles.
40
F24
Panoramic sunroof / electric top control module;

Top power latch (convertible).

20/30
F25
Side door / driver's door (e.g. power windows)
30
F26
Seat heating
30
F27
Sound amplifier
30
F28
Top Power Control Module, Electronics (Cabriolet)
5
F29
Interior lights
7.5
F30
–
–
F31
External lighting
40
F32
Driver assistance systems
7.5
F33
Airbag
5
F34
Button illumination;

Upper cab coils in heater relay (Cabriolet) and socket relay, interior sound;

Reverse light switch;

Temperature sensor;

Oil level sensor.

7.5
F35
Diagnostics;

Headlamp range control system;

Air quality sensor;

Automatic dimming rear view mirror.

10
F36
Right hand cornering lamp;

Right LED headlight.

15
F37
Left cornering lamp;

Left LED headlight.

15
F38
–
–
F39
Side door / front passenger door (for example power windows)
30
F40
Sockets
20
F41
Reversible belt tensioners on the front passenger side
25
F42
Central locking elements;

Windshield washer system.

40
F43
Spotlights, lighting
30
F44
All-wheel drive
15
F45
–
–
F46
–
–
F47
–
–
F48
–
–
F49
Starter;Clutch sensor;

Headlamps relay coil.

5
F50
–
–
F51
–
–
F52
–
–
F53
Rear window defogger
30
Engine compartment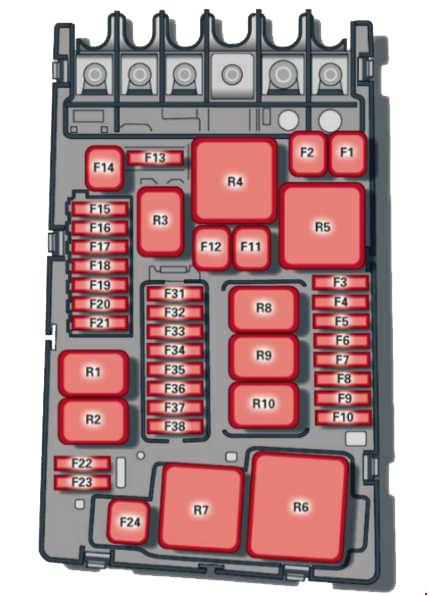 Fuses in the engine compartment (2015)
Number
Description
Amperes [A]
F1
ESC control module
40
F2
ESC control module
40
F3
Engine control module (petrol / diesel)
15/30
F4
Engine cooling, engine components;

Auxiliary heater coil relay (1 + 2);

Secondary air injection pump relay.

5/10
F5
Engine components, tank system
7.5 / 10/15
F6
Brake light sensor
5
F7
Engine components, water pumps
7.5 / 10/15
F8
Oxygen sensor
10/15
F9
Engine components;

Exhaust flaps;

Glow time control module;

SULEV valve.

5/10/20
F10
Fuel injectors, fuel control module
15/20
F11
Auxiliary heater 2
40
F12
Auxiliary heater for heater 3
40
F13
Automatic transmission control module
15/30
F14
–
–
F15
Horn
15
F 16
The ignition coil
5/20
F17
ESC contra I module;

Engine control module.

7.5
F18
Terminal 30 (reference voltage)
5
F19
Wipers
30
F20
horn
10
F21
–
–
F22
SO terminal diagnostics
5
F23
Starter
30
F24
Auxiliary heater 1
40
F25
–
–
F26
–
–
F27
–
–
F28
–
–
F29
–
–
F30
–
–
F31
Vacuum pump
15
F32
LED headlights
5
2016
Instrument panel
Fuse Assignment in Instrument Panel (2016)
Number
Description
F1
Engine components
F2
Seat adjustment
F3
Hydraulic pump cover (convertible)
F4
MM control, MMI components
F5
entry
F6
Gear lever (automatic transmission)
F7
Air conditioning / heating control;

Gear lever (automatic gearbox);

Parking heating;

Heated rear window relay coil.

F8
Diagnostics;

Electromechanical parking brake switch;

Light switch;

Rain and light sensor;

Indoor Lighting Communication Box (Plug-in Hybrid Drive);

Anti-theft alarm system.

F9
Steering column switch module
F10
Display
F11
Reversible seat belt tensioners on the driver's side
F12
MMI area
F13
Adaptive throttle control module / service plug (plug-in hybrid drive)
F14
Air conditioning blower
F15
Electronic steering column lock
F 16
MMI area
F17
Instrument cluster
F18
Rear camera
F19
Control unit for convenient key system, tank system
F20
Tank system
F21
–
F22
–
F23
Exterior lighting, heated washer fluid nozzles
F24
Panoramic sunroof / electric top control module;

Top power latch (convertible).

F25
Side door, drive (for example power windows)
F26
Seat heating
F27
Sound amplifier
F28
Top Power Control Module, Electronics (Cabriolet)
F29
Interior lights
F30
–
F31
External lighting
F32
Driver assistance systems
F33
Airbag
F34
Button illumination;

Upper cabin heater (Cabriolet) relay coils and socket relay;

Interior sound;

Reverse light switch;

Temperature sensor.

F35
Functional lighting;

Diagnostics;

Headlamp range control system;

Air quality sensor;

Automatic dimming rear view mirror.

F36
Right hand cornering lamp;

Right LED headlight.

F37
Left cornering lamp;

Left LED headlight.

F38
High-voltage battery (plug-in hybrid drive)
F39
Side door / front passenger door (for example power windows)
F40
Sockets
F41
Reversible belt tensioners on the front passenger side
F42
Central locking elements;

Windshield washer system.

F43
Spotlights, lighting
F44
All-wheel drive
F45
–
F46
–
F47
Rear window wiper
F48
External Noise Amplifier (Plug-in Hybrid Drive)
F49
Starter;

Clutch sensor;

Headlight relay coil;

High-voltage battery (plug-in hybrid drive).

F50
–
F51
–
F52
–
F53
Rear window defogger
Engine compartment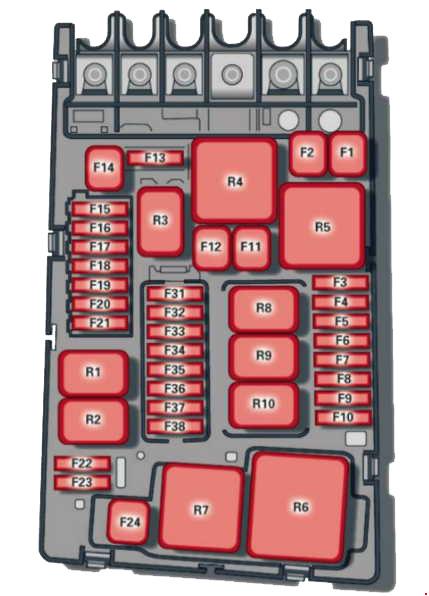 Fuses in the engine compartment (2016)
Number
Description
F1
ESC control module
F2
ESC control module
F3
Engine control module (petrol / diesel)
F4
Engine cooling;Engine components;

Auxiliary heater coil relay (1 + 2);

Secondary air injection pump relay.

F5
Engine components, tank system
F6
Brake light sensor
F7
Engine components, water pumps
F8
Oxygen sensor
F9
Engine components;

Exhaust doors;

Glow time control module;

SULEV valve.

F10
Fuel injectors;Fuel control module.
F11
Auxiliary heater 2
F12
Auxiliary heater for heater 3
F13
Automatic transmission control module
F14
–
F15
Horn
F 16
Ignition coil / power electronics (plug-in hybrid drive)
F17
ESC contra I module;

Engine control module.

F18
Terminal 30 (reference voltage)
F19
Wipers
F20
Horn
F21
–
F22
SO terminal diagnostics
F23
Starter
F24
Auxiliary heater 1;

Brake assist (plug-in hybrid drive).

F25
–
F26
–
F27
–
F28
–
F29
–
F30
–
F31
Vacuum Pump / Water Pump (Plug-in Hybrid Drive)
F32
LED headlights
F33
Brake Assist Memory (Plug-in Hybrid Drive)
F34
Brake Assist Memory (Plug-in Hybrid Drive)
F34
Relay (Plug-in Hybrid Drive)