Audi A8 D5 (2021) – fuse box
Audi A8 D5
– fuse box diagram
Year of production:2021.
The cigarette lighter fuse (power socket) on the Audi A8 D5 is the B7 fuse in the fuse box in the footwell.
Location of the fuse box
Passenger compartment
There are two fuse blocks here:
The first is on the left side of the cockpit. And the other is behind the cover in the left footwell.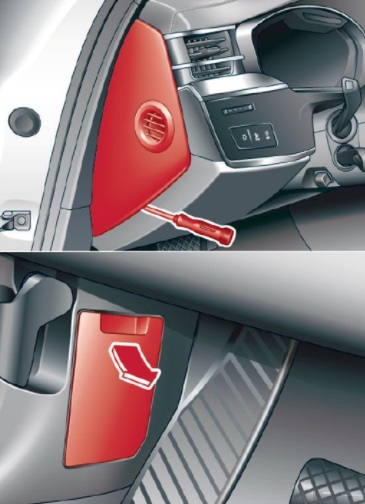 Trunk
It is located on the left side of the boot, behind the side trim panel.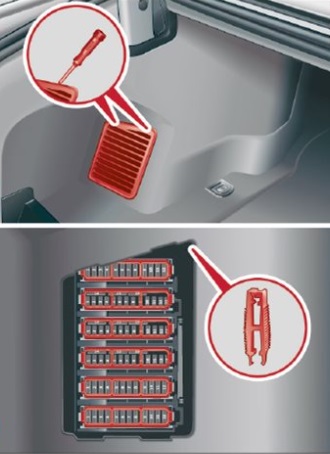 Fuse box diagrams
Foot fuse panel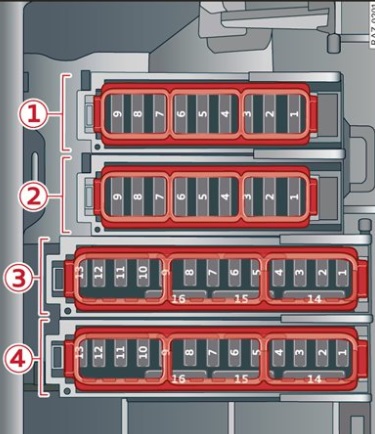 Arrangement of fuses in the footwell
Number
Description
Fuse panel 1 (brown)
A1
Engine ignition coils
A2
Engine start;

Electric motor clutch.

A3
Windshield wiper control module
A4
Left headlight electronics
A5
Air conditioning blower
A6
Instrument panel
A7
Windshield wipers
A9
Panoramic glass sunroof
Fuse panel 2 (black)
B1
Engine mount
B2
Left Rear Door Control Module
B3
Windscreen washers;

Headlight washers.

B4
Right headlight electronics
B5
Front seat heating
B6
Right rear door control module
B7
12V sockets
B8
Left front door control module
B9
Auxiliary heating
Fuse panel 3 (red)
C1
Anti-theft alarm system
C2
Engine control module
C5
Horn
C6
Parking brake
C7
CAN gate control module (diagnostics)
C8
Control module in the headliner
C9
Driver assistance systems control module
C10
Airbag control module
C11
Electronic Stability Control (ESC);

Anti-lock Braking System (ABS).

C12
Rear air conditioning control unit;

Diagnostic connector;

Light and rain sensor.

C13
Air conditioning, heating and ventilation control system;

Vehicle electrical system control module.

C14
Right front door control module
C15
Air conditioning blower;

Vehicle electrical system control module.

C16

Brake system pressure reservoir

Fuse panel 4 (black)
D2
Engine components;

Water pump;

Heated oxygen sensor.

D3
Exhaust doors;

Fuel injectors;

An air inlet;

Engine heating.

D4
NOx sensor;

Particulate sensor;

Biodiesel sensor;

Exhaust doors.

D5
Brake light sensor
D6
Engine valves;

Camshaft adjustment.

D7
Heated oxygen sensor;

Air mass sensor.

D8
Water pump;

High pressure pump;

Air mass sensor;

Fuel pressure adjustment.

D9

48V alternator starter;

48V water pump;

Engine components.

D10
Oil pressure sensor;

Oil temperature sensor.

D11

48V alternator starter;

48V water pump;

Alternator starter 12V.

D12
Engine valves;

Engine mount.

D13
engine cooling
D14
Engine control module;

Fuel injectors.

D15
Heated oxygen sensor;

Charge air cooling;

Ignition coils.

D16
Fuel pump
Fuse panel in the cockpit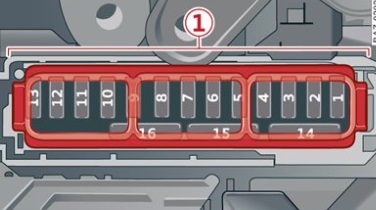 Arrangement of fuses on the left side of the dashboard
Number
Description
A1
Air conditioning, heating and ventilation system;Indoor air sensor.
A2
Audi Phonebox;

External antenna.

A3
Air conditioning, heating and ventilation control system;

Fragrance system;

Particulate sensor.

A4
Head-up display
A5
Audi music interface;

USB sockets.

A7
Steering column lock
A8
Lower and upper display
A9
Dashboard
A10
Volume control
A11
Light switch;

Switch panels.

A12
Steering column electronics
A14
MMI Infotainment system control module
A15
Steering column adjustment
A16
Steering wheel heating
Fuse box in the trunk
Assignment of fuses in the trunk
Number
Description
Fuse panel 1 (black)
A1
Thermal management
A5
Pneumatic suspension
A6
Automatic Transmission
A7
Right rear seat adjustment
A8
Rear seat heating
A9
Rear lights.
A10
Driver's side front belt tensioner
A11
Trunk lid;

Comfort system control module

Rear blind;

Fuel filler door.

A12

Trunk lid control module

Fuse panel 2 (red)
B1
Rear air conditioning blower
B2
External antenna
B3
Exhaust gas cleaning;

Sound activator.

B4
Rear air conditioning control panel
B5
Right trailer hitch light
B6
Trailer hitch positioning motor
B7
Towbar
B8
Left trailer hitch lamp
B9
Trailer hitch socket;

High voltage battery.

B10
Sports differential
B11
Exhaust gas treatment.
Fuse panel 3 (brown)
C1
Driver assistance systems control module
C2
Audi Phonebox at the rear
C3
Rear seat adjustment
C4
Side assistant
C5
Rear entertainment system (Audi tablet)
C6
Tire pressure monitoring system
C7
Emergency call system
C8
Parking heater radio receiver;

Fuel tank monitoring.

C9
Gear selector, automatic transmission
C10
Television tuner;

Data exchange control module.

C11
Opening and starting the vehicle (NFC)
C12
Garage door opener (Homelink)
C13
Rear view camera;

Peripheral cameras.

C14
Vehicle opening and starting (NFC);

Rear lights.

C15
Left rear seat adjustment
C16
Front passenger side belt tensioner
Fuse panel 4 (black)
D1
Seat ventilation;

Rear seat heating;

Rearview mirror;

Refrigerator;

Diagnostic connector.

D2
CAN gate control module (communication)
D3
Sound activator
D4
Gearbox heating valve
D5
Engine start;

Electric engine.

D7
Active accelerator pedal.
D8
Night vision assistant;

Active suspension.

D9
Adaptive Driving Assistant
D11
Assistant at intersections;

Driver assistance systems;

Radar system;

Camera system.

D12
External sound generator
D13
USB ports
D14
Right headlight
D15
Left headlight
Fuse panel 5 (red)
E1
Active suspension.
E2
Service switch.
E3
Refrigerator
E4

Electric drive system

E5
Braking system
E6
High voltage battery water pump.
E7
Additional control of air conditioning, heating and ventilation
E8
Air conditioning compressor.
E9
Auxiliary battery control module
E10
High voltage battery.
E11
High voltage charger
E14
Thermal management.
E15
Thermal management.
Fuse panel 6 (white)
F1
Rear center armrest heating
F2
Rear sliding sunroof
F3
CD / DVD player
F5
AC socket
F6
Passenger's rear seat belt pretensioner
F7
Heated front center armrest
F8
Rear footrest heating
F11
Rear seat remote control
F12
Driver's side rear seat belt pretensioner