Chrysler Pacifica CS (2004-2008) – fuse box
Chrysler Pacifica CS
– fuse box diagram
Year of production: 2004, 2005, 2006, 2007, 2008.
The cigarette lighter fuses (power receptacles) on the Chrysler Pacifica are fuses 24 or 26 (Power receptacle) in the engine compartment fuse box.
Integrated power module (fuse box)
Location of the fuse box
The Integrated Power Module (IPM) is located in the engine compartment near the battery.
The scheme of the fuse box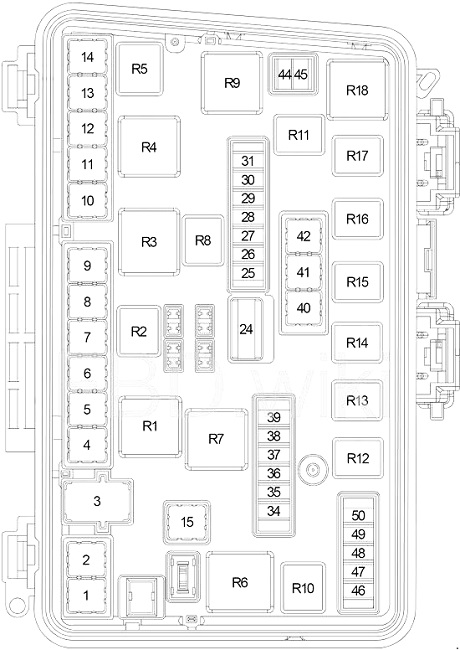 Fuse allocation in the integrated power module
Number
Amperes [A]
Description
Maxi fuses:
1
40 A green
Anti-lock brake system (ABS) pump
2
Reserve
3
30 Amp Pink
Consumption After Ignition Off (IOD)
4
40 A green
Body Control Module (BCM) Power 1
5
40 A green
Electronic backlight (EBL)
6
30 Amp Pink
Front wipers
7
40 A green
Starter
8
40 A green
Electric seat C / B
9
40 A green
The power of the sunroof
10
Reserve
11
40 A green
Headlight washer;

Electrically operated tailgate.

12
Reserve
13
40 A green
Radiator fan 1
14
Reserve
15
40 A green
Anti-lock Braking System (ABS) Module
40
40 A green
Driver's door node
41
40 A green
The node of the passenger door
42
40 A green
Front blower
Mini fuses:
24
20 A yellow
Power socket (selectable)
25
15 A blue
Radio;

Amplifier;

Navigation;

Hands-free kit (HFM);

Electronic Vehicle Information Center (EVIC);

EC;

SNRF;

Mirror.

26
20 A yellow
Power socket
27
Reserve
28
25 Amp Natural
Horn
29
20 A yellow
Cluster;

CHMSL;

Brake lights;

Anti-lock brake system (ABS).

30
10 A red
Ignition switch
31
20 A yellow
Emergency lights
34
Reserve
35
Reserve
36
20 A yellow
Electronic Automatic Transmission (EATX) Solenoid
37
25 Amp Natural
ASD
38
20 A yellow
Fuel pump
39
20 A yellow
Air conditioning clutch;

MTV.

44
25 Amp Natural
Rear heated seats
45
10 A red
Anti-Lock Braking System (ABS);

Ignition.

46
20 A yellow
Passenger's door
47
20 A yellow
Driver's door
48
15 A blue
PLG;

OHC;

Body Control Module (BCM);

Navigation;

Hands-free kit (HFM).

49
25 Amp Natural
Amplifier
50
15 A blue
HVAC, DVD, RAD, CLK , SKREEM
Relays:
R1
Door knot
R2
Starter
R3
Rear window defogger
R4
Gearbox inspection
R5
Start
R6
Fuel pump
R7
Front blower motor
R8
Accessory
R9
Horn
R10
Front wiper high and low speed
R11
Front wiper
R12
Manifold tuning valve
R14
Air conditioning compressor clutch
R15
Automatic shutdown
R16
Rear assist fan