Fiat 500L (2013-2015) – fuse and relay box
Diagrams of fuse and relay boxes – Fiat 500L
Applies to vehicles manufactured in the years:
2013, 2014, 2015.
Fuses F14 (115V power socket), F85 (front 12V power socket) and F86 (rear 12V power socket / USB charger sockets) in the fuse box in the engine compartment are responsible for the cigarette lighter.
Location of the fuse box
Fuses under the hood
The front distribution unit is located on the right side of the engine compartment next to the battery.
To access, press the release tabs and remove the cover.
The electrical component identification number for each fuse can be found on the back of the cover.
Internal fuses
The inside fuse panel is part of the body control module (BCM) and is located behind a cover on the left side of the handlebar.
Rear internal fuses
The rear interior fuse panel is located behind the driver's side cover at the rear of the vehicle.
Fuses in the engine compartment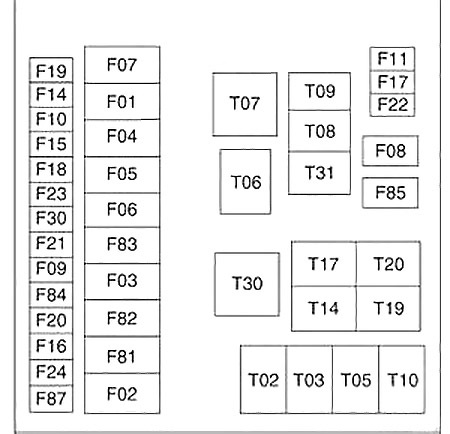 | Recess | Maxi fuse | Mini fuse | Description |
| --- | --- | --- | --- |
| F01 | 60 Amp blue | | Body controller |
| F02 | 60 Amp blue | | Body control unit rear distribution unit |
| F03 | 20 A yellow | | Ignition switch |
| F04 | 40 amp orange | | Brake anti-lock pump |
| F05 | 70 Amp transparent | | Electric power steering |
| F06 | 30 A green | | Radiator fan – low speed |
| F07 | 50 amp red | | Radiator fan – high speed |
| F08 | 40 Amp Orange | | Blower motor |
| F09 | | 7.5 amps Brown | Transmission |
| F10 | | 15 A blue | Horn |
| F11 | | 10 A red | Drive system |
| F14 | | 20 A yellow | 115V power socket |
| F15 | | 15 A blue | Transmission |
| F 16 | | 7.5 amps Brown | Transmission drive system |
| F17 | | 10 A red | Drive system |
| F18 | | 5 A Tan | Powertrain (Multiair – if equipped) |
| F19 | | 7.5 amps Brown | Air conditioning |
| F20 | | 30 A green | Rear defroster |
| F21 | | 15 A blue | Fuel pump |
| F23 | | 20 A yellow | Brake anti-lock valves |
| F24 | | 7.5 amps Brown | Stability control system |
| F30 | | 5 A Tan | After starting the pump |
| F81 | 70 Amp transparent | | PTC (secondary) |
| F82 | 40 amp orange | | Transmission |
| F83 | 40 amp orange | | PTC (main) |
| F84 | | 7.5 amps Brown | Transmission |
| F85 | | 15 A blue | Front 12V power socket |
| F86 | | 15 A blue | Rear 12V power socket |
| F88 | | 7.5 amps Brown | Heated mirrors |
Internal fuses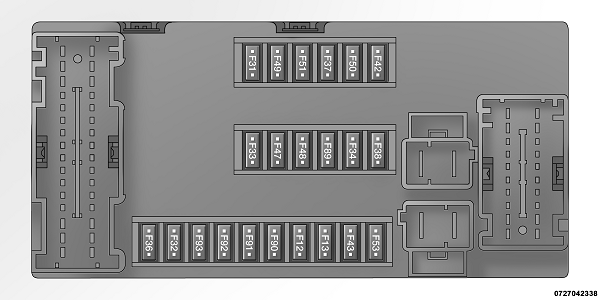 Recess
Number
Mini fuse
Description
1
F12
7.5 amps Brown
Right low beam
2
F32
7.5 amps Brown
Front and rear ceiling lamps;

Ceiling lamps in the trunk and doors.

3
F53
7.5 amps Brown
Instrument panel node
4
F38
20 A yellow
Central door lock
5
F36
15 A blue
Diagnostic socket;

Car Radio;

Air conditioning system;

TPMS;

Sunroof.

6
F43
20 A yellow
Bidirectional washer
7
F48
20 A yellow
Passenger power window
8
F13
7.5 amps Brown
Left low beam, headlight leveling
9
F50
7.5 amps Brown
Airbag
10
F51
5 A transparent
Car radio switch;

Climate control system;

Stop light;

Clutch;

Reverse gear;

Sunroof;

Parking Sensor;

Rear camera.

11
F37
7.5 amps Brown
Stop light switch;

Switchboard node.

12
F49
5 A transparent
Outside mirror;

GPS;

Electric mirror;

Parking Sensor.

13
F31
5 A transparent
Climate control;

Seat adjustment.

14
F47
20 A yellow
Window power driver
Assignment of rear interior fuses
| Recess | Number | Mini fuse | Description |
| --- | --- | --- | --- |
| 1 | F61 | 15 A blue | Seats with adjustable lumbar spine |
| 2 | F62 | 15 A blue | Heated seats |
| 3 | F64 | 20 A yellow | Audio set |
| 4 | F65 | 20 A yellow | Solar louvers |
| 5 | F66 | 20 A yellow | Sunroof |
| 6 | F90 | 7.5 amps Brown | Left high beam |
| 7 | F91 | 7.5 amps Brown | Traffic light right |
| 8 | F92 | 7.5 amps Brown | Left fog lamp |
| 9 | F93 | 7.5 amps Brown | Right fog lamp |
| 10 | F33 | 5 A Tan | BSM, ESP |
| 11 | F34 | 20 A yellow | Left rear passenger window |
| 12 | F49 | 20 A yellow | Right rear passenger window |