Ford Taurus (2008) – fuse and relay box
Diagrams of fuse boxes and relays – Ford Taurus
Applies to vehicles manufactured in the years:
2008.
Fuses 13 (power point – switchboard), 14 (power point – 2nd row) and 16 (power point – console) in the engine compartment fuse box are responsible for the cigarette lighter (power sockets) .
Passenger compartment
The fuse panel is located under the dashboard to the left of the steering wheel.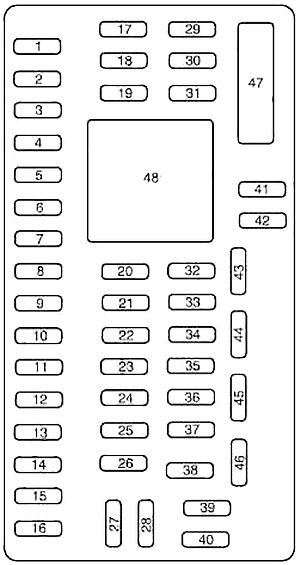 | Number | Amperes [A] | Description |
| --- | --- | --- |
| 1 | 30A | Intelligent window motor |
| 2 | 15A | Brake on / off switch, high mounted brake light |
| 3 | 15A | SDARS, Bluetooth, Family Entertainment System (FES) / Rear Seat Control |
| 4 | 30A | Reserve |
| 5 | 10 A. | The power of SPDJB logic |
| 6 | 20A | Direction indicators |
| 7 | 10 A. | Dipped beam headlamps (left) |
| 8 | 10 A. | Dipped beam headlamps (right) |
| 9 | 15A | Interior lighting, Cargo lamps |
| 10 | 15A | Backlight, puddle lamps |
| 11 | 10 A. | All-wheel drive |
| 12 | 7.5A | Memory / mirror socket switches, memory module |
| 13 | 5A | FEPS module |
| 14 | 10 A. | Analog clock |
| 15 | 10 A. | Climate control |
| 16 | 15A | Reserve |
| 17 | 20A | All lock motor power supply, Decklid release |
| 18 | 20A | Reserve |
| 19 | 25A | Sunroof |
| 20 | 15A | OBDII connector |
| 21 | 15A | Fog lights |
| 22 | 15A | Park lamps, license lamps |
| 23 | 15A | High beam headlamps |
| 24 | 20A | Horn relay |
| 25 | 10 A. | Demand lamps / Indoor lamps |
| 26 | 10 A. | Instrument panel cluster |
| 27 | 20A | Adjustable pedal switch |
| 28 | 5A | Radio, radio start signal |
| 29 | 5A | Instrument panel cluster |
| 30 | 5A | Overdrive Cancel switch |
| 31 | 10 A. | Compass, auto dimming rear view mirror |
| 32 | 10 A. | Immobilization control module |
| 33 | 10 A. | Reserve |
| 34 | 5A | AWD module |
| 35 | 10 A. | Steering wheel rotation sensor, FEPS, reverse parking aid, heated seat modules |
| 36 | 5A | PATS module |
| 37 | 10 A. | Climate control |
| 38 | 20A | Subwoofer (audiophile radio) |
| 39 | 20A | Radio |
| 40 | 20A | Reserve |
| 41 | 15A | Microphone mirror, sunroof, front lock switches, radio |
| 42 | 10 A. | Reserve |
| 43 | 10 A. | Reserve |
| 44 | 10 A. | Reserve |
| 45 | 5A | Relay coils: PDB, A / C, front and rear wipers, front blower motor |
| 46 | 7.5A | Occupant classification sensor (OCS), Passenger Airbag Deactivation Indicator (PADI) |
| 47 | 30A circuit breaker | Electric windows |
| 48 | – | Delayed accessory relay |
Engine compartment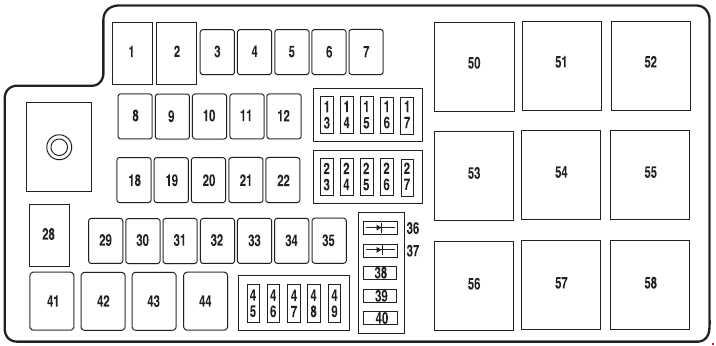 Number
Amperes [A]
Description
1
80A *
SPDJB power
2
80A *
SPDJB power
3
30A *
Front wipers
4
–
Not used
5
20A
Reserve
6
–
Not used
7
50A *
Engine cooling fan
8
–
Not used
9
40A *
Anti-lock brake system (ABS) / AdvanceTrac pump
10
30A *
Starter
11
50A *
Powertrain control module (PCM) relay
12
20 A *
ABS / AdvanceTrac valve
13
20A **
Power point (instrument panel)
14
20A **
Power point (2nd row)
15
20A
Reserve
16
20A **
Power point (console)
17
10 A **
Alternator
18
–
Not used
19
–
Not used
20
40A *
Rear defroster
21
30A *
Electric seat motors (passenger)
22
20 A *
Heated seat module
23
10 A **
PCM Keep Power, Canister Vent
24
10 A **
A / C clutch relay
25
25A
Reserve
26
20A **
Backup relay
27
15 A **
Fuel relay (fuel pump driver module, fuel pump)
28
–
Not used
29
30A
Reserve
30
–
Not used
31
30A *
Reserve
32
30A *
Driver seat motors, memory module
33
20 A *
Ignition switch (for SJB)
34
–
Not used
35
40A *
Front air conditioning blower motor
36
Diode 1A
Start with one touch
37
Diode 1A
Fuel pump
38
10 A **
IVD, Yaw Sensor
39
10 A **
Fuel Diode, PCM
40
–
Not used
41
G8VA relay
Air conditioning clutch
42
G8VA relay
Fuel pump
43
G8VA relay
Reserve
44
–
Not used
45
10 A **
Speed ​​control switch, mass air flow sensor, Inline VPWR2 module
46
10 A **
A / C clutch relay, VPWR3
47
15A **
PCM VPWR1
48
15A **
PCM VPWR4
49
15A **
Heated mirrors
50
Full ISO Relay
PCM relay
51
–
Not used
52
–
Not used
53
Full ISO Relay
Rear defrost relay
54
Full ISO Relay
Blower motor relay
55
Full ISO Relay
Starter relay
56
–
Not used
57
Full ISO Relay
Front wiper relay
58
–
Not used
* Blade
fuses ** Mini fuses