Honda Accord (1998-2002) – fuse and relay box
Diagrams of fuse and relay boxes – Honda Accord
Applies to vehicles manufactured in the years:
1998, 1999, 2000, 2001, 2002.
The cigarette lighter (sockets) on the Honda Accord is fuse number 9 in the fuse box on the right side of the instrument panel.
Passenger compartment
The internal fuse boxes are located on both sides of the dashboard.
To open the inner fuse box, open the car door, pull the cover, and then remove it from its hinges by pulling it towards you.
Fuse box under the driver's dashboard
Front view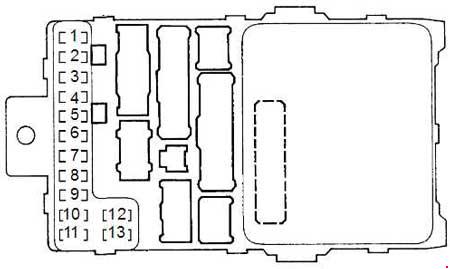 Rear view
Number
Amperes [A]
Description
1
15
PGM-FI main relay, SRS unit (VA)
2
10
SRS Unit (VB)
3
7.5
A / C Compressor Control, Air Supply, Blower Control, Fans, Rear Window Defogger Relay, Seat Heaters (Canada EX)
4
7.5
ABS control unit (all except '01 -'02 V6), ABS / TCS control unit ('01 -'02 V6), electric mirrors, electric mirror defoggers (Canada), option S connector
5
7.5
DRL control unit (Canada)
6
15
Charging system, cruise control, engine mount control system, evaporative emissions control system, fuel and emissions, gauge assembly, radiator fan control module (V6), VSS (M / T)
7
7.5
Wiper / washer, SRS (with side SRS)
8
7.5
Accessory power socket relay, option connector R
9
7.5
Hazard warning lights, brake light failure sensor, clock, multiplex driver and passenger control units, DRL indicator (Canada), gauge assembly, security system (USA except EX), shift lock solenoid (A / T)
10
7.5
Activate the hazard signal / relay
11
7.5
Ignition coil (L4)
12
thirty
Windshield washer
13
7.5
PCM or ECM, main PGM-FI relay, starter
Relay
R1
Starter shut-off relay
R2
Reverse relay
R3
Activate the hazard signal / relay
Fuse box under passenger dashboard
Front view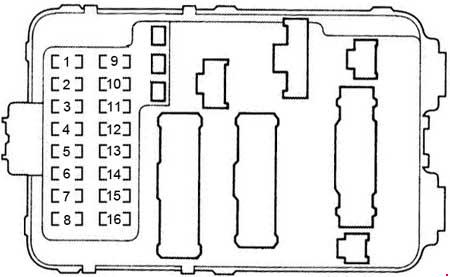 Rear view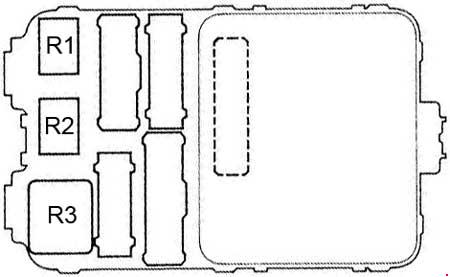 Number
Amperes [A]
Description
1
thirty
Sunroof
2
20
Electric motor for lifting and lowering the seat (2-way adjustable), Electric motor for lifting and lowering the rear seat (8-way adjustable)
3
20
Electric motor for sliding the seat (4-way adjustment)
4
20
Electrically adjustable front seat lift and slide motors (8-way adjustment)
5
20
Electrically adjustable seat tilt motor (4-way adjustable)
6
10
DRL control unit (Canada)
20
H02S (ULEV) main relay
7
20
Left rear window motor, sunroof open and close relays
8
20
Passenger windshield motor
9
20
Accessory power socket, audio unit
10
10
Dashboard and console lights, Driver's multiplex control unit, Front parking lights, Front side marker lights, Glove box lights, License plate lights, Rear night lights, Vanity mirror lights
11
7.5
Ceiling light, door ceiling light, spotlights, trunk light
12
20
Passenger multiplex control unit
13
7.5
Air Conditioner (Automatic A / C), Clock, Door Multiplex Control, Driver Multiplex Control, Instrument Cluster, Heater Control Unit (with Manual A / C), Passenger Multiplex Control, PCM or ECM, Safety Indicator (WAS)
14
7.5
ABS control unit (all except '01 -'02 V6)
7.5
ABS / TCS control unit ('01 -'02 V6)
15
20
Multiplex door control unit
16
20
Right rear window motor
Relay
R1
Electric window relay
R2
Accessory power socket relay
R3
Rear window defogger relay
Fuse box under the hood (engine compartment)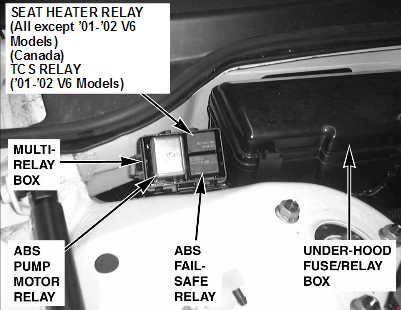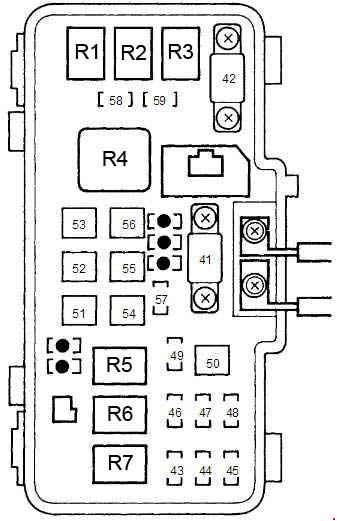 Number
Amperes [A]
Description
41
100
Power distribution
42
50
Ignition switch (BAT)
43
20
DRL control unit (Canada), right headlight
44
–
–
45
20
DRL control unit (Canada), High beam cut-off relay (Canada), High beam indicator (USA), Left headlight
46
15
DLC, main PGM-FI relay
47
20
ABS control unit, brake lights, cruise control, horn relay, ignition key light, key lock switch (AIT), PCM or ECM
48
20
ABS control unit (all except '01-02 V6), ABS / TCS control unit ('01-02 V6)
49
15
Activate the hazard signal / relay
50
thirty
ABS pump motor, fuse 14 (in fuse / relay box under passenger dashboard)
51
40
Fuse 1 (in fuse / relay box under passenger dashboard), electric window relay
52
20
TCS relay
53
40
Rear window defogger
54
40
Fuses 9, 10, 11, 12 and 13 (in the fuse / relay box under the passenger dashboard)
55
40
Fuses 2, 3, 4, 5 and 6 (in the fuse / relay box under the passenger dashboard)
56
40
Blower motor
57
20
Radiator fan motor
58
20
A / C Compressor Clutch, Condenser Fan Motor, Radiator Fan Control Module (V6)
59
20
Seat heaters (Canada EX)
Relay
R1
Condenser fan relay
R2
Radiator fan relay
R3
A / C compressor clutch relay
R4
Blower motor relay
R5
Horn relay
R6
Headlight relay 2
R7
Headlamp relay 1