Porsche 911 (991.2) (2017-2018) – fuse and relay box
Diagrams of fuse boxes and relays – Porsche 911 (991.2)
Applies to vehicles manufactured in the years:
2017, 2018.
For the cigarette lighter (sockets) in the Porsche 911 (991.2) there are fuses D9 (electric socket in the passenger footwell) and D10 (electric socket in the center console, cigarette lighter) in the fuse box in the right passenger compartment.
There are two fuse boxes – in the left and right leg space (behind the covers).
Fuse box in left footwell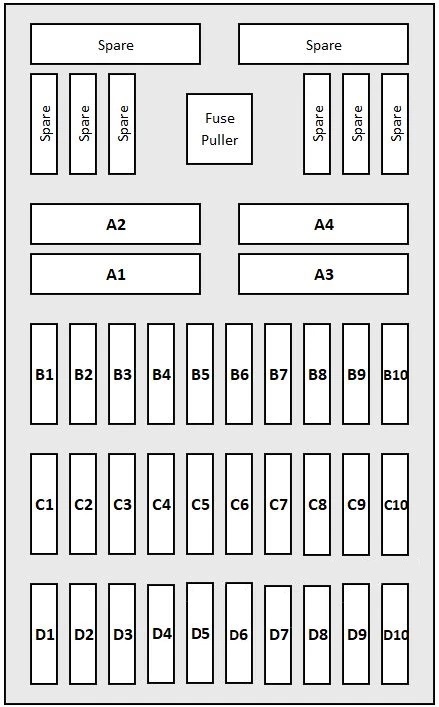 Number
Description
Amperes [A]
A1
Air conditioning fan (right-hand drive only)
40
A2
PSM control panel
40
A3
Seat adjustment
25
A4
Not used
40
B1
Headlight adjustment;
Front cover light;Front cover actuator;
Left high beam;
Left dipped beam;
Front right side marker lamp;
Rear left and front left turn signals).
40
B2
Exhaust flap control;
High Level Stop Light;Spoiler;
Rear control element cover;
Right rear fog lamp;
Left brake light;
Left reversing lamp;
Left tail light;
Left daytime running light.
15
B3
Alarm horn
15
B4
Interior lighting;
Hall sensors;
Orientation light;
Activation of the rear wiper electronics;
Rear window heating relay;
LED central locking;LED door panels;

Ambient lighting;

Number plate lighting;
Left rear fog lamp;
High brake light;
Right brake light;
Right reversing lamp;
Right rear light;
Daytime running lamps right.

15
B5
Fuel pump relay and control panel
twenty
B6
Locking the infusion flap;
Washer pump front and rear.
10
B7
Not used
B8
Air conditioning control unit
7.5
B9
PDCC control panel
10
B10
Steering column,
stopwatch
15
C1
Switch panel in the center console;
Targa trunk lighting;
Gate control panel;
Diagnostic socket;
Ignition switch;
Light switch;
Lighting behind the rear seats;
WiFi control panel (for retrofitting).
10
C2
Leg lighting;
Electric lock to remove the ignition key;
Front right and rear right turn signals;
LED emergency switch;
Electric ignition lock light;
Front right and front left turn signals;
Right high beam;
Right low beam;
Front left side marker lamp.
40
C3
VTS control panel
5
C4
horn
15
C5
Cabriolet / Targa:

the function of the soft closing of the convertible roof;
filler flap;

convertible / Targa:

opening and closing the fastening of the top shelf of the convertible;
extending and retracting the control panel with the rear spoiler.

thirty
C6
Left front power window control panel;

Left door control panel.

25
C7
Headlight washer system
thirty
C8
PSM control unit
25
C9
Alarm siren
5
C10
Passenger compartment monitoring system sensor
5
D1
Rear wiper
15
D2
Garage door opener
5
D3
Left headlight
15
D4
Front camera control panel;

PDC control panel;
Gateway / Diagnostic Socket;
Air quality sensor;
Headlamp control panel.

5
D5
PSM control unit
5
D6
Steering column switch module;
Electric steering gear;Refrigerant pressure sensor;

Fan relay.

5
D7
Gear lever control unit;

Clutch switch sensor.

5
D8
Right headlight
15
D9
Interior mirror
5
D10
Left seat ventilation
5
Fuse box in right footwell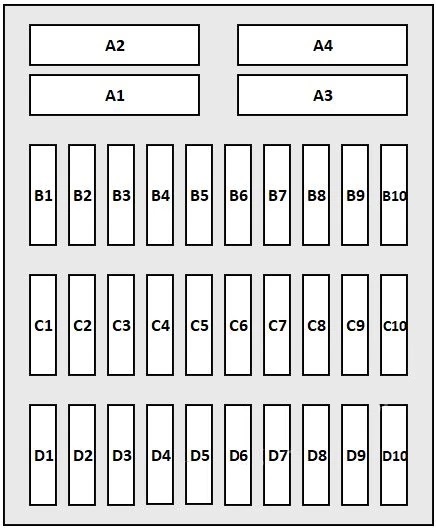 Number
Description
Amperes [A]
A1
DC / DC PCM converter
40
A2
Front axle lift control panel
40
A3
Fresh air blower motor and blower regulator (left-hand drive only)
40
A4
Right seat control panel, seat
adjustment
25
B1
Rain sensor
5
B2
Air conditioning – heated seat control panel
25
B3
PCM components: (rear view camera, antenna amplifier, display control panel, TV tuner, USB hub, coupling antenna, card reader)
5
B4
Central CPU with an external amplifier;
Central CPU with internal amplifier.
7.5
20
B5
TPMS control panel;

Air conditioning control panel.

5
B6
Sound amplifier
40
B7
Burmester subwoofer amplifier
40
B8
All-wheel drive control
25
B9
Instrument cluster;
WLAN control panel;Air conditioning / compressor clutch control panel.
10
B10
Handle proximity sensor
5
C1
Not used
C2
Electric parking brake button
5
C3
Suspended console
5
C4
Cabriolet:

Right rear power window control panel

twenty
C5
Not used
C6
Front wiper motor
thirty
C7
Right windscreen control panel
25
C8
Steering column adjustment
25
C9
Not used
C10
Not used
D1
Airbag control panel;

Passenger detection control panel.

5
D2
All-wheel drive control
5
D3
PDCC control panel
7.5
D4
ACC control panel
5
D5
Front axle lift control panel
5
D6
Right seat ventilation
5
D7
Startup Active Consumers (DME, PDK, VTS Control Panel, Rear BCM)
7.5
D8
Not used
D9
Electric socket in the passenger footwell
twenty
D10
Center console electric socket;
Lighter.