Porsche 911 (991) (2012-2016) – fuse box
Porsche 911 (991) (2012-2016) – fuse box diagram
Year of production: 2012, 2013, 2014, 2015, 2016.
The cigarette lighter fuses (power socket) on the Porsche 911 (991) are fuses D7 (center console socket, cigarette lighter), D8 (footwell socket) and D10 (socket in glove compartment) in the right passenger compartment fuse box.
There are two fuse boxes – in the footwell on the left and right (behind the covers).
Fuse box in left footwell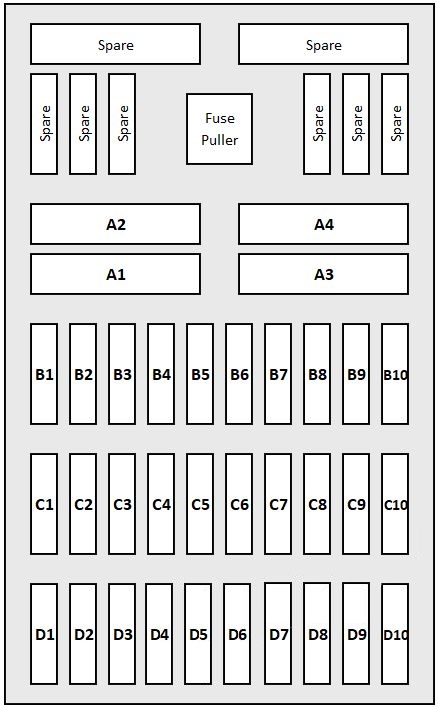 Fuse assignment in left footwell
Number
Description
Amperes [A]
A1
Right / left air conditioning fan
40
A2
PSM control unit
40
A3
Seat adjustment
25
A4
PASM control unit
40
B1
Headlight adjustment for left and right side;

Front cover light;

Front cover actuator;

Left high beam;

Left dipped beam;

Side marker lamp, FR;

Direction indicators, RL;

Heated sprinklers.

40
B2
Exhaust flap control;

Raised brake light, spoiler;

Tailgate actuator;

Right rear fog light;

Left reversing lamp;

Left brake light;

Left tail light;

Daytime running light FL.

15
B3
Emergency signal
15
B4
Indoor lighting;

Hall sensors;

Orientation light;

Number plate lighting;

Activation of the rear wiper electronics;

Rear window heating relay;

LED central locking;

LED door panels;

Ambient lighting;

Raised brake light;

Left rear fog light;

Right brake light;

Right reversing lamp;

Daytime running light FR;

Right tail light.

15
B5
Fuel pump relay
20
B6
Closing and opening the infusion flap;

Electric steering column lock;

Terminal 30;

Washer pump, front and rear.

10
B7
Not used
B8
Air conditioning control unit
7.5
B9
Instrument cluster;

Stopwatch on the steering column.

10
B10
PCM
25
C1
Center console button panel;

Gate driver;

Diagnostic socket;

Ignition switch;

Steering column lock;

Passenger compartment monitoring sensor;

Light switch;

Front left door control unit;

Bluetooth phone charger.

15
C2
Running an appropriate load on the legs;

Electric anti-ignition lockout anti-lockout removal;

Direction indicators – signal lamp, FL / FR;

LED emergency flasher button;

Ignition switch;

Side turn signal lights, FR / FL;

High Beam, FR;

Dipped beam, FR;

Direction indicators – signal lamp;

Side marker lamp RR, FL.

40
C3
Vehicle tracking system control unit
5
C4
Horn
15
C5
Cabriolet:opening / closing the zipper in the upper part;

Filler flap;

opening / closing the convertible in the upper one;

Rear spoiler extension / retraction control.

30
C6
Power window control, FL
25
C7
Headlight cleaning system
30
C8
PSM control unit
25
C9
Alarm siren
5
C10
Cabriolet:Rear window control unit, RL
5
D1
Rear wiper
15
D2
HomeLink
5
D3
Left headlight
5
D4
Gateway / diagnostic socket;

Air quality sensor.

5
D5
PSM control unit
5
D6
Steering column switch module;

Electronic steering gear.

5
D7
Control lever controller;

Clutch sensor.

5
D8
Right headlight
5
D9
Not used
D10
Seat ventilation motors
5
Fuse box in right footwell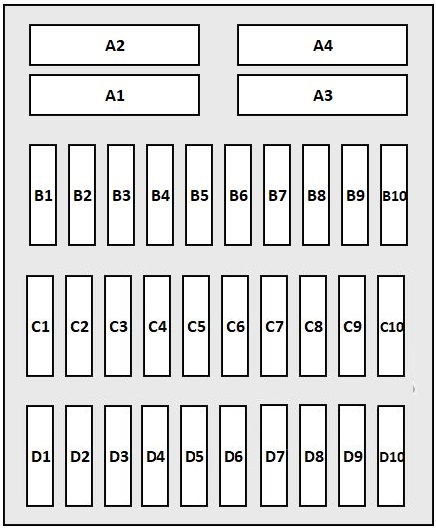 Arrangement of fuses in right footwell
Number
Description
Amperes [A]
A1
DC / DC converter;

Infotainment.

40
A2
Roof console power supply with DC / DC converter
40
A3
Fresh air blower motor;

Blower regulator.

40
A4
Right seat control unit;

Seat adjustment.

25
B1
Rain sensor
5
B2
Air conditioning control unit
25
B3
Tank leak diagnosis, USA
5
B4
PDDC control unit
10
B5
TPM control unit
5
B6
TV tuner
5
B7
High-end subwoofer amplifier;

Subwoofer amplifier.

40
25
B8
Not used
B9
Not used
B10
Not used
C1
Not used
C2
Electric parking brake button
5
C3
Power window control, FR
7.5
C4
Cabriolet:Rear window control unit, RR
20
C5
Cabriolet:Rear window control unit, RR electronics
5
C6
Front wiper motor
30
C7
Power window control, FR
25
C8
Steering column adjustment
25
C9
Roof console
5
C10
Sound system amplifier
40/25
D1
Airbag control unit
5
D2
Airbag control unit
5
D3
PDCC control unit
7.5
D4
PDC control unit;

EC mirror;

Refrigerant pressure sensor.

7.5
D5
Not used
D6
Seat ventilation, right
5
D7
Center console socket;

Lighter.

20
D8
Leg slot, USA
20
D9
Not used
D10
Slot in the glove box
20