Scania 5 (2005-…) – fuse box
Scania 5 – fuse box diagram
Year of production: from 2005.
The cigarette lighter fuse (power socket) on the Scania 5 is fuse 8 (40A) in the fuse box.
It concerns, among others Scania P, G, R, T models
Fuse and relay box
The main fuse and relay box are located in the instrument panel on the passenger side behind a protective cover.
Project boxes each and purpose elements may differ from the presented. Compare the assignment with the diagram on the back cover!
Fuse diagram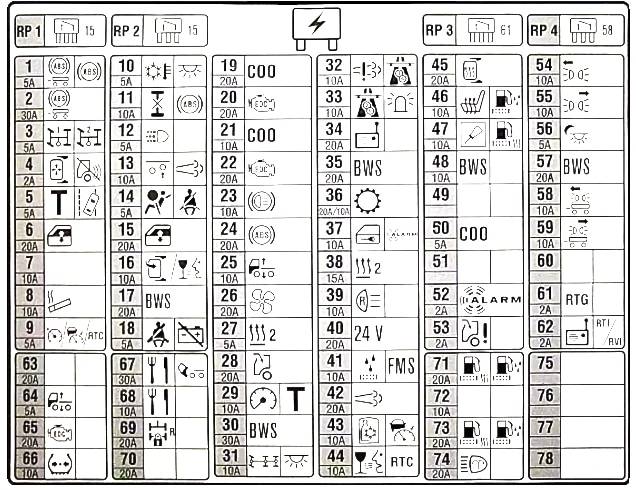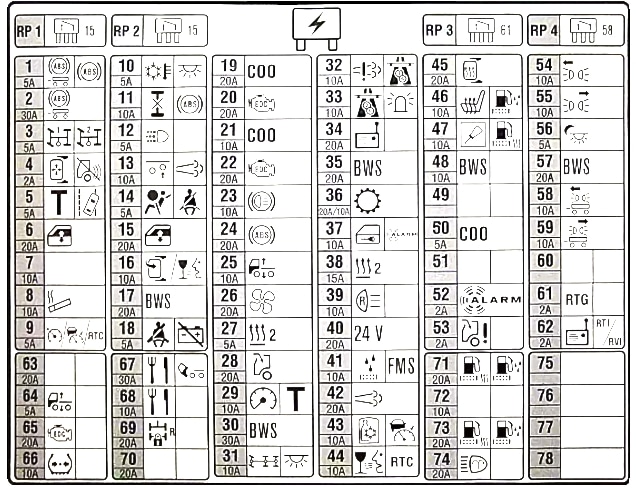 Number
Description
1
(5A) ECU, ABS / EBS trailer
2
Trailer valves (30A)
3
(5A) PT01, PT02, GMS, BWE, ZTE, start-stop
4
(2A) Mirror adjustment;Alarm when reversing.
5
(5A) Interior lighting (exclusive);Lane Departure Warning.
6/1
(20A) Left window power supply
6/2
(30A) Glass lift, left side, double cabin
7
(20A) Additional air conditioning, double cabin
8
Cigarette lighter 10A
9
(5A) Cruise control / AICC
10
(5A) ACC / MCC;Tachograph.
11
(10A) Differential locks, 6-channel ABS
12
(5A) Daytime running lights, additional light switch
13
(10A) Additional axle lift mechanism, EEC
14
(5A) Airbag;

Seat belt pretensioner.

15/1
(20A) Right electric window
15/2
(30A) Glass lift, right side, double cabin
16
(10A) Breathalyzer, voltage from terminal 15
17
(20A) Body
18
(5A) Battery "ground" switch
19
(20A) Coordinator
20
(20A) Supply voltage, EMS control unit
21
(10A) Ignition lock
22
(20A) Supply voltage, EMS control unit
23
(10A) Inverter
24
(20А) ABS / EBS
25
(10A) Power supply, ELC control unit
26
(20A) Cabin fan
27
(5А) CT
28
(20A) Sunroof
29
(10A) Instrument panel, tachograph
30
(30A) Body
31
(10A) AWD control unit, interior lighting
32
(10A) SDP3 (diagnosis)
33
(10A) Toll Registration Preparation Kit (for Switzerland);

Rotating beacon.

34
(20A) 24V / 12V voltage converter;

12V electric socket.

35
(20A) Electrical installation of additional equipment
36/1
(20А) OPC
36/2
(10А) Allisson
37
(10A) Central locking
38
(15A) Auxiliary heater (ATA, WTA)
39
(10A) Reverse light switch panel
40
(20A) 24V electric socket
41
(10A) APS control unit, body electrical system
42
(20A) Electric cab tilting mechanism
43
(10A) Refrigerator
44
(10A) Alcolock (alcohol interlock)
45
(20A) Heated rear view mirror;

Heated windscreen.

46
(10A) Seat heating;

Oil cooling fan.

47
(10A) Engine clock;

Heating the fuel filter;

Heating of the water separating suction filter.

48
(10A) Body
49
(30А) RES, MGU
50
(5A) Yellow / green warning bus
51
(30A) Coolant pump
52
(2A) Alarm
53
(2A) Open sunroof warning
54
(10A) Marker lamp, left side
55
(10A) Marker lamp, starboard side
56
(5A) Background lighting, side lights
57
(20A) Body
58
(10A) Trailer, left side
59
(10A) Trailer, right side
60
(20A) Work light
61
(2A) FMS, body
62
(2A) 24V / 12V voltage converter;

Remote immobilizer.

63
(10A) Driver Warning Unit;

Front video camera.

64
(5A) SMS
65
(20A) Variable geometry turbocharger
66
(10A) Power supply, TPM control unit
67
(30A) Kitchen module, cabin lift system
68
(10A) TV supply voltage;
69
(20A) Trailer axle lock / oil cooling fan
70
(10A) Radar
71
(20A) Fuel heater, fuel cooling system
72
(10A) Electric throttle actuator
73
(20A) Fuel heater, fuel cooling system
74
(10A) Headlight cleaning
75
(30A) Coolant pump
76
(5A) DC / DC converter, battery
77
(5A) Battery
78
(15A) Coolant pump, gearbox
Scheme of the section of relays
Relay RР1 – RР4 (in the upper diagram)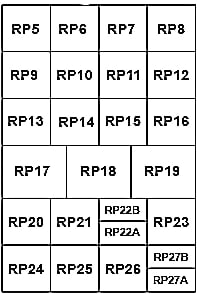 Relay assignment
| | |
| --- | --- |
| Number | Description |
| RP1 | Power supply from terminal 15 |
| RP2 | Power supply from terminal 15 |
| RP3 | operated by the VIS |
| RP4 | Power supply from terminal 58, controlled by VIS |
| RP5 | Indoor lighting |
| RP6 | Additional axle lifting mechanism |
| RP7 | Stop – signals |
| RP8 | Reversing light |
| RP9 | Resistor block for vehicles with cruise control without steering wheel buttons |
| RP10 | ECU for FMS preparation |
| RP11 | ECU for FMS preparation |
| RP12 | AC relay (crew cab) |
| RP13 | Safety switch |
| RP18 | Additional relay for power supply from terminal 15 for S-vehicles |
| RP19 | Relay for electronic cab tilting system |
| RP20 | Tailgate and kitchen equipment |
| RP23 | Additional lantern |
| RP24 | Additional lantern |
| RP25 | Additional lantern |