Ford Mondeo (2007-2010) – fuse and relay box
Diagrams of fuse and relay boxes – Ford Mondeo
Applies to vehicles manufactured in the years:
2007, 2008, 2009, 2010.
The cigarette lighter (sockets) on the Ford Mondeo is provided by fuse F7 (cigarette lighter) in the instrument panel fuse box and FA6 (auxiliary power socket) in the rear fuse box.
Fuse box in passenger compartment
This fuse box is located under the glove compartment.
To access: loosen the screws, turn the knob 90 degrees and remove the fuse box from the bracket, lower the fuse box and pull it towards you.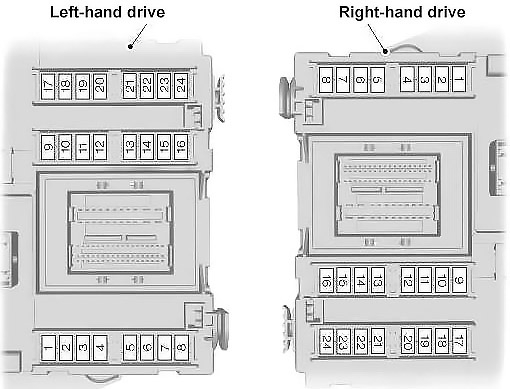 | Number | Amperes [A] | Description |
| --- | --- | --- |
| F1 | 7.5A | Steering wheel module |
| F2 | 5A | Group |
| F3 | 10 A. | Internal lamps |
| F4 | 5A | Engine immobilizer |
| F5 | 7.5A | Adaptive Cruise Control (ACC) |
| F6 | 5A | Rain sensor |
| F7 | 20A | Lighter |
| F8 | 10 A. | Power to unlock the fuel filler flap |
| F9 | 15A | Windshield washers – rear |
| F10 | 15A | Windshield washers – front |
| F11 | 10 A. | Trunk release power supply |
| F12 | 10 A. | Power supply to the fuel filler flap lock |
| F13 | 20A | Fuel pump |
| F13 | 7.5A | Fuel pump (2.2L Duratorq-TDCi Stage V) |
| F14 | 5A | Remote frequency receiver, internal motion sensor |
| F15 | 5A | Ignition switch |
| F 16 | 5A | Emergency indicator (alarm system), OBD II (on-board computer diagnostics) |
| F17 | 5A | Steering wheel vibration actuator |
| F18 | 10 A. | SRS (airbag) power supply |
| F19 | 7.5A | ABS, Yaw Sensor (ESP), Electric Park Brake (EPB), Accelerator Pedal Power |
| F20 | 7.5A | Electronic power supply, electronic fuse, auto-dimming mirror, lane departure warning |
| F21 | 15A | Radio power supply |
| F22 | 5A | Brake light switch |
| F23 | 20A | Sunroof |
| F24 | 5A | A / C module and steering column module power supply |
Fuse box in the engine compartment
| Number | Amperes [A] | Description |
| --- | --- | --- |
| F1 | 10 A. | Transmission Control Module (AWF21) |
| F1 | 15A | Transmission Control Module (MPS6) |
| F2 | 5A | Glow plug monitoring (diesel engines) |
| F2 | 5A | Evaporator glow plug monitoring (2.0L Duratorq-TDCi Stage V and 2.2L Duratorq-TDCi Stage V) |
| F3 | 70A | Engine cooling fan – Dual fan (automatic 2.3L Duratec-HE and 2.2L Duratorq-TDCi) |
| F3 | 80A | Electric hydraulic power steering (EHPAS) (1.6L Duratec-16V Ti-VCT Stage V, 1.6L EcoBoost SCTi, 2.0L EcoBoost SCTi, 1.6L Duratorq-TDCi Stage V and 2.0L Duratorq -TDCi Stage V) |
| F4 | 60A | Glow plugs |
| F5 | 60A | Engine cooling fan (1.6L Duratorq-TDCi, 2.0L Duratorq-TDCi, 2.0L Duratorq-TDCi Stage V, 2.2L Duratorq-TDCi Manual, 1.6L Duratec-16V Ti-VCT Stage V, 2.0L Duratec-HE, 2.3L Duratec-HE, 2.0L EcoBoost SCTi) |
| F5 | 70A | Engine cooling fan – Dual fan (1.6L EcoBoost SCTi) |
| F6 | 7.5A | HEGO sensor (1.6L Duratorq-TDCi) |
| F6 | 10 A. | HEGO 1 sensors, CMS sensor, Oxygen sensor (engine management) |
| F6 | 20A | Evaporator glow plug (2.0L Duratorq-TDCi Stage V, 2.2L Duratorq-TDCi Stage V) |
| F7 | 5A | Relay coils |
| F8 | 10 A. | Powertrain control module, fuel metering unit, MAF sensor, fuel rail pressure control valve (engine management). |
| F8 | 20A | Powertrain control module (2.0L EcoBoost SCTi and 2.0L Duratorq-TDCi Stage V) |
| F8 | 15A | Powertrain control module (1.6L EcoBoost SCTi, 1.6L Duratorq-TDCi and 2.2L Duratorq-TDCi Stage V) |
| F9 | 10 A. | MAF sensor, fuel injectors, variable intake valve, variable exhaust valve, ignition coils (engine management). |
| F9 | 5A | Fuel pump evaporator (2.0L Duratorq-TDCi Stage V) |
| F9 | 7.5A | MAF sensor, EGR bypass valve, fuel pump evaporator (2.2L Duratorq-TDCi Stage V) (engine management) |
| F9 | 7.5A | Degassing valve, TMAF sensor, active grille shutter, bypass valve, relay coil, auxiliary start, water pump (1.6L EcoBoost SCTi). |
| F10 | 10 A. | Engine control module (2.0L Duratorq-TDCi, 1.6L Duratec-16V Ti-VCT Stage V) |
| F10 | 7.5A | Auxiliary rundown, water pump (1.6L EcoBoost SCTi) |
| F11 | 10 A. | PCV Valve, VCV Valve, Water in Fuel Sensor, Sonic Purge Valve, Swirl Control Valve, Variable Intake Valve, EGR Valve, IVVT Oil Control Valve (Engine Management). T.MAF sensor, variable exhaust valve timing valve, active grille shutter, canister purge valve, turbocharger control valve, exhaust gate valve (engine management). |
| F11 | 10 A. | Turbocharger control valve, MAF sensor, Active grille shutter, EGR valve, VCV valve (1.6L Duratorq-TDCi) |
| F11 | 5A | MAF sensor, water-in-fuel sensor, active grille shutter, inlet metering valve (2.0L Duratorq-TDCi Stage V). |
| F11 | 7.5A | Fuel rail pressure, fuel dispenser, fuel pump evaporator, active grille shutter (2.2L Duratorq-TDCi Stage V) |
| F11 | 10 A. | Turbocharger control valve, variable intake valve timing valve, variable exhaust valve timing valve, canister purge valve, electric bypass valve (1.6L EcoBoost SCTi). |
| F12 | 15A | Ignition coils (1.6 l EcoBoost SCTi and 2.0 l EcoBoost SCTi) |
| F12 | 10 A. | Coil on the plug; Canister purge valve, power steering pressure switch (engine management) |
| F12 | 10 A. | EGR throttle, variable turbocharger control (2.0L Duratorq-TDCi) |
| F12 | 5A | Relay coils (2.0L Duratorq-TDCi Stage V, 2.2L Duratorq-TDCi Stage V and 1.6L Duratorq-TDCi) |
| F13 | 15A | Air conditioning |
| F14 | 15A | Diesel filter heater (2.0L Duratorq-TDCi, 2.0L Duratorq-TDCi Stage V and 1.6L Duratorq-TDCi) |
| F14 | 10 A. | HEGO Sensor (2.2L Duratorq-TDCi Stage V) |
| F15 | 40A | Starter relay |
| F 16 | 80A | Auxiliary diesel heater (PTC) |
| F17 | 60A | Central supply of fuse box A |
| F18 | 60A | Central supply of fuse box B |
| F19 | 60A | Rear fuse box supply C. |
| F20 | 60A | Rear fuse box power supply D. |
| F21 | 30A | VQM / No VQM: Cluster / Audio / AC / FLR |
| F22 | 30A | Windshield wiper module |
| F23 | 30A | Heated rear window |
| F24 | 30A | Headlight washer |
| F25 | 30A | ABS valves |
| F26 | 40A | ABS pump |
| F27 | 25A | Fuel heater |
| F28 | 40A | Heater blower |
| F29 | – | Not used |
| F30 | 5A | Administering ABS 30 |
| F31 | 15A | Horn |
| F32 | 5A | Fuel heater – remote control |
| F33 | 5A | Light switch module, fuse box coils in the engine compartment |
| F34 | 40A | Heated windscreen (left side) |
| F35 | 40A | Heated windscreen (right side) |
| F36 | 15A | Rear wiper 15 feed |
| F37 | 7.5A | Heated front / FLR + FSM KL15 washer nozzles |
| F38 | 10 A. | Power PCM / TCM / EHPAS 15 |
| F39 | 15A | Adaptive Front Lighting System (AFS) |
| F40 | 5A | Headlamp leveling / AFS module |
| F41 | 20A | Instrument panel |
| F42 | 5A | Cluster IP address |
| F43 | 15A | Audio module / BVC / DAB module |
| F44 | 5A | Automatic AC / Manual AC |
| F45 | 5A | FLR (Start Stop) |
Luggage compartment fuse box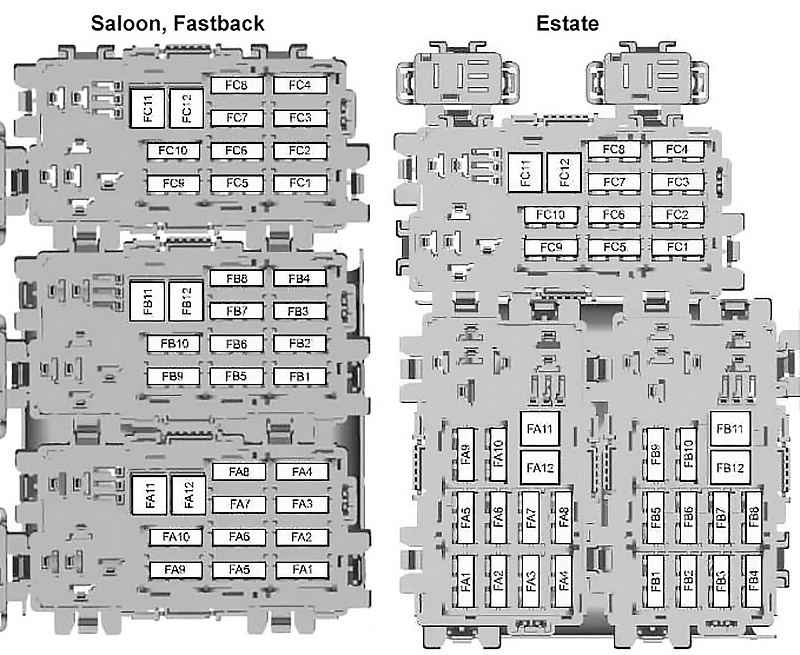 | Number | Amperes [A] | Description |
| --- | --- | --- |
| FA1 | 25A | Door module (left front) (window up / down, central locking, electric folding mirror, heated mirror) |
| FA2 | 25A | Door module (right front) (window up / down, central locking, electric folding mirror, heated mirror) |
| FA3 | 25A | Door module (left rear) (window up / down) |
| FA4 | 25A | Door module (right rear) (window up / down) |
| FA5 | 10 A. | Rear lock (without rear door modules) |
| FA6 | 15A | Auxiliary power socket |
| FA7 | 5A | Relay coils |
| FA8 | 20A | Vehicle module without a key |
| FA9 | 5A | VQM relay coils (Start Stop) |
| FA10 | – | Not used |
| FA11 | 20A | Accessories, trailer module |
| FA12 | 30A | Electric driver's seat |
| FB1 | – | Not used |
| FB2 | 15A | Suspension module |
| FB3 | 15A | Heated driver's seat |
| FB4 | 15A | Heated front passenger seat |
| FB5 | 15A | Heated rear left seat |
| FB6 | – | Not used |
| FB7 | 15A | Heated rear right seat |
| FB8 | 5A | Parking aid, BLIS |
| FB9 | 30A | Electric front passenger seat |
| FB10 | 10 A. | Burglar alarm |
| FB11 | – | Not used |
| FB12 | – | Not used |
| FC1 | – | Not used |
| FC2 | – | Not used |
| FC3 | – | Not used |
| FC4 | – | Not used |
| FC5 | 20A | Keyless vehicle |
| FC6 | – | Not used |
| FC7 | 5A | seat memory function module |
| FC8 | 7.5A | Rear seat entertainment system / CD changer |
| FC9 | 20A | Sound amplifier |
| FC10 | 10 A. | Sony audio system |
| FC11 | – | Not used |
| FC12 | – | Not used |