Ford Mustang (1994-1998) – fuse and relay box
Diagrams of fuse boxes and relays – Ford Mustang
Applies to vehicles manufactured in the years:
1994, 1995, 1996, 1997, 1998.
Instrument panel fuse box
The fuse panel is located under the dashboard on the driver's side.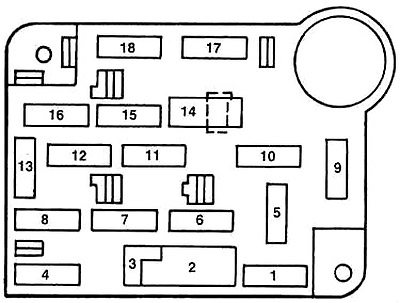 Number
Amperes [A]
Description
1
15
Turn on the beacons
Spare lamps
Airbag module
DRL module
Canceling overdrive
Brake shift solenoid
Heated backlite relay coil
Conv. upper coil of the relay
Ilium, input module (cut-off)
2
thirty
Windshield wiper and washer systems
4
10
Airbag module (auxiliary power)
5
15
Headlight switch
Outdoor lamps
Hip cluster.
6
15
Clock
Speed ​​control booster.
A / C clutch coil
RKE module (shut-off)
Anti-theft (cut-off) module
7
10
ABS
8
10
Key ring in the ignition switch
Courtesy lamps
The lamp in the engine compartment
Lamp in the glove box
Electric mirrors
Radio (MCM)
Instrument Cluster (MCM)
Clock
Trunk lamp
Theft protection (door open signaling)
9
15
Hazard warning
Stop lamps
Brake shift lock sol.
10
15
IMRC (Cobra only)
20
Heated oxygen sensors
11
15
Radio
12
20
Circuit breaker:
Deck cover release
Padlocks
13
10
Instrument panel
Lighting lamps
PRNDL hip.
Ilium ashtray.
14
20
Circuit breaker: Power windows
15
10
Low oil module
Low coolant modulus
Seat belt bell
Cluster warning lamps
Cluster indicators
16
20
Flash-to-pass
Fog lights
Anti-theft module
Dipped beam
Outside Lamps
17
thirty
Air conditioning and heater blower motor
18
20
Generator warning lights
EEC pwr. relay coil
Fuse box in the engine compartment
The high-current fuse panel is located in the engine compartment on the left fender.
Number
Amperes [A]
Description
IGN SW
40
Turn on the beacons
Spare lamps
Airbag module
DRL module
Canceling overdrive
Brake shift solenoid
Heated backlight relay coil
Replaceable upper relay coil
Illuminated input module (cut-off)
HEGO (only 4.6 l)
ABS
Low oil module
Low coolant modulus
Seat belt bell
Cluster warning lamps
Cluster indicators
Gearshift module (4.6L only)
Generator warning lights
EEC power relay coil
The ignition coil
TFI module (only 4.6 l)
Starter relay
IGN SW
40
Windshield washers and wipers
Clock (lighting)
Speed ​​control booster.
A / C clutch coil
RKE module (shut-off)
Anti-theft (cut-off) module
Radio
Electric windows
IGN SW
40
Air conditioning and heater blower motor
HD LPS
50
Headlights
Airbag module (pwr.)
Gong for the key in the ignition switch
Courtesy lamps
The lamp in the engine compartment
Lamp in the glove box
Electric mirrors
Radio (MCM)
Instrument Cluster (MCM)
Clock
Trunk lamp
Anti-theft protection (open door sign)
Flash-to-pass
Dipped beam
Outside Lamps
Deck cover release
Locks
EEC
20
EEC power
HTD BL
40
Rear window defrosting
Fuel Pump
20
Electric fuel pump
FAN
60
electr. drive fan
ABS
60
Anti-lock brakes
Power Seats
25
Electric seats
DRL
20
Day lights
Int. Lamps
25
Internal lamps
Audio
25
Radio amplifier
Subwoofer amplifier
ALT
20
Generator regulator
Cigar Lighter
thirty
Lighter
PowerPoint
Convertible Top
thirty
Switch: Convertible top
Thermometer
thirty
Thermactor (Cobra models)