Jeep Cherokee KK (2008-2010) – fuse and relay box
Fuse and Relay Box Diagrams –
Jeep
Cherokee
KK
Applies to vehicles manufactured in the years:
2008, 2009, 2010.
For the Jeep Cherokee cigarette lighter there is an M6 (cigarette lighter), M7 (power socket 2) and M36 (power socket 3) fuse in the engine compartment fuse box.
location
The Fully Integrated Power Module (TIPM) is located in the engine compartment near the battery.
This hub includes blade fuses, mini fuses and relays. A label identifying each item is printed on the inside of the cover.
2008, 2009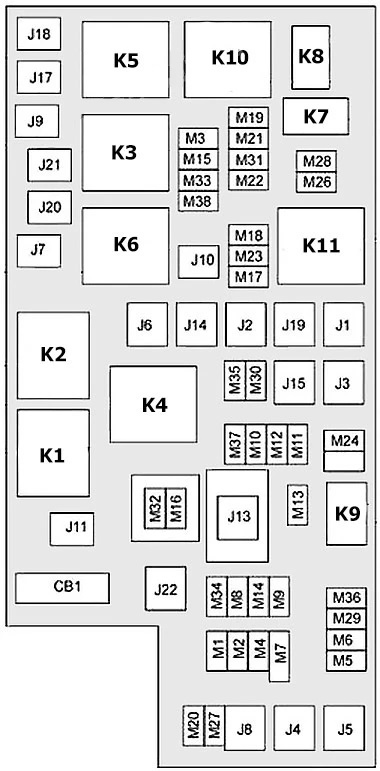 Recess
Cartridge fuse
Mini fuse
Description
J1
–
–
–
J2
30 Amp Pink
–
Transfer Case Module – If equipped
J3
40 amp green
–
Rear door modules
J4
25 A white
–
The driver's door node
J5
25 A white
–
The node of the passenger door
J6
40 amp green
Anti-Lock Braking System (ABS) / ESP Pump – If Equipped
J7
30 Amp Pink
Anti-Lock Braking System (ABS) / ESP Valve – If equipped
J8
40 amp green
–
Electric seats – if equipped
J9
40 amp green
–
PZEV / Flex fuel – if equipped
J10
–
–
–
J11
–
–
–
J13
60 A yellow
–
Consumption After Ignition Off (IOD)
J14
40 amp green
EBL (Rear Window Defogger) – If equipped
J15
–
–
–
J17
40 amp green
–
Starter solenoid
J18
20 A blue
Powertrain control module (PCM) Transmission relay
J19
60 A yellow
–
Radiator fan
J20
30 Amp Pink
–
Front wiper
J21
20 A blue
–
Front Washer / Rear Washer – If equipped
J22
25 A white
–
Sunroof Module – If Equipped
M1
15 A blue
Stop Lamp Switch Power – Center High Mount Stop Lamp (CHMSL)
M2
–
20 A yellow
Trailer Lighting – If Equipped
M3
–
–
–
M4
–
10 A red
Trailer Towing – If Equipped
M5
–
25 Amp Natural
Power converter – if equipped
M6
20 A yellow
Power socket # 1 (cigarette lighter) / rain sensor – if equipped;

Towing a Trailer – If Equipped /

M7
–
20 A yellow
Power socket # 2
M8
–
20 A yellow
Heated front seats (if equipped)
M9
–
–
–
M10
15 A blue
Hands-Free Module (HFM) – if equipped;

Universal garage door opener (UGDO) – if equipped;

Light in the door moldings.

M11
–
10 A red
Automatic Temperature Control (ATC) (if equipped)
M12
–
30 A green
Radio / Amplifier – If Equipped
M13
20 A yellow
Cab Compartment Node (CCN);

Wireless Control Module (WCM);

Multi-function control switch.

M14
–
–
–
M15
20 A yellow
Multi-Function Control Switch / Cab Compartment Node (CCN);

Steering column control module (SCM);

Rearview mirror / tire pressure monitor (TPM) – if equipped;

Infrared sensor – if equipped;

Transfer Case Module – If Equipped.

M16
–
10 A red
Passenger Restraint Controller (ORC)
M17
15 A blue
Exterior lighting – left front parking and side marker, left rear lights and running lights;

License plate lighting.

M18
15 A blue
Exterior lighting – right front parking marker and side marker, right rear lights and running lights
M19
–
25 Amp Natural
Automatic Power Off (ASD) # 1 and # 2
M20
15 A blue
Interior Lighting / Steering Wheel Switches – If equipped;

Switch set / e

Vehicle Electronic Information Center (EVIC) – if equipped.

M21
–
20 A yellow
Auto Power Off (ASD) # 3
M22
–
10 A red
Right horn (high / low)
M23
–
10 A red
Left horn (high / low)
M25
–
20 A yellow
Fuel pump
M26
10 A red
Power Mirror Switch / Driver Window Switch
M27
10 A red
Ignition switch;

Wireless Control Module (WCM);

Steering Column Lock – If equipped.

M28
–
10 A red
Powertrain control module (PCM)
M29
–
10 A red
Passenger Classification Module (OCM)
M30
15 A blue
Rear Wiper Module (if equipped / Diagnostic Link)
M31
–
20 A yellow
Backup lights
M32
–
10 A red
Passenger Restraint Controller (ORC)
M33
–
10 A red
Powertrain control module (PCM)
M34
10 A red
Parking Assist Module – if equipped;

Heating, Ventilation, and Air Conditioning (HVAC) module – if equipped;

Compass module – if equipped.

M35
–
10 A red
Heated Mirrors – If equipped
M36
–
–
–
M37
10 A red
Anti-lock braking system (ABS);

Electronic stabilization program (ESP) module;

Stop light switch.

M38
–
25 Amp Natural
Motors for locking / unlocking doors and liftgate
CB1
25 amp circuit breaker
Electric seat
Relay
K1
Ignition (work / accessories)
K2
Ignition (run)
K3
Starter
K4
Ignition (Run-Start)
K5
Transmission Control Module (TCM)
K6
Rear window defogger
K7
–
K8
–
K9
–
K10
Automatic shutdown
K11
Radiator fan control
2010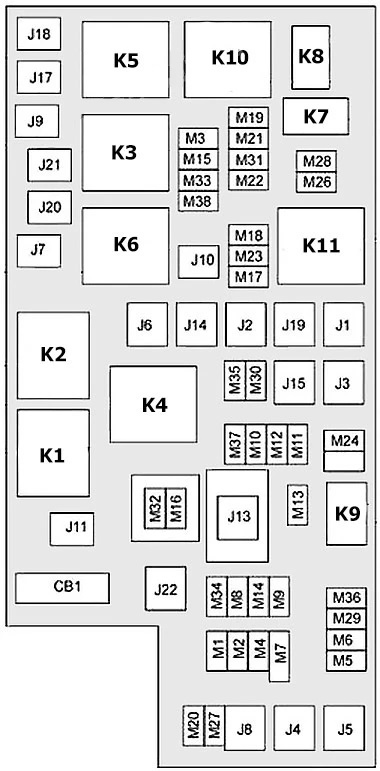 Fuse Assignment in Integrated Power Module (2010)
Recess
Cartridge fuse
Mini fuse
Description
J1
–
–
–
J2
30 Amp Pink
–
Transfer Case Module – If equipped
J3
30 Amp Pink
–
Rear door modules
J4
25 A white
–
The driver's door node
J5
25 A white
–
The node of the passenger door
J6
40 amp green
Anti-Lock Braking System (ABS) / ESP Pump – If Equipped
J7
30 Amp Pink
Anti-Lock Braking System (ABS) / ESP Valve – If equipped
J8
40 amp green
–
Electric seats – if equipped
J9
40 amp green
–
PZEV / Flex fuel – if equipped
J10
30 Amp Pink
Headlight washer relay – if equipped;

Manual Control Valve – If Equipped.

J11
30 Amp Pink
Sway Bar – if equipped;

Thatchm Lk-Ulk – if equipped;

Pwr Sid Dr Mod – if equipped.

J13
60 A yellow
–
Consumption After Ignition Off (IOD)
J14
40 amp green
EBL (Rear Window Defogger) – If equipped
J15
30 Amp Pink
–
Rear Blower – If equipped
J17
40 amp green
–
Starter solenoid
J18
20 A blue
Powertrain control module (PCM) Transmission relay
J19
60 A yellow
–
Radiator fan
J20
30 Amp Pink
–
Front wiper
J21
20 A blue
–
Front Washer / Rear Washer – If equipped
J22
25 A white
–
Sunroof Module – If Equipped
M1
–
15 A blue
Stop Lamp Switch, Feed – Central High, Stop Lamp Mounted (CHMSL)
M2
–
20 A yellow
Trailer Lighting – If Equipped
M3
–
20 A yellow
Front / Rear Axle Locks (if equipped)
M4
–
10 A red
Trailer Towing – If Equipped
M5
–
25 Amp Natural
Power converter – if equipped
M6
20 A yellow
Power socket # 1 (cigarette lighter);

Rain sensor – if equipped;

Trailer Towing – If Equipped.

M7
–
20 A yellow
Power socket # 2
M8
–
20 A yellow
Heated front seats (if equipped)
M9
–
20 A yellow
Heated rear seats – if equipped
M10
15 A blue
Hands-Free Module (HFM) – if equipped;

Universal garage door opener (UGDO) – if equipped;

Light in the door moldings.

M11
10 A red
Automatic Temperature Control (ATC) (if equipped)
M12
–
30 A green
Radio / Amplifier – If Equipped
M13
20 A yellow
Cab Compartment Node (CCN);

Wireless Control Module (WCM);

Multi-function control switch.

M14
–
20 A yellow
Trailer Towing (BUX) – If equipped
M15
20 A yellow
Multifunction Switch / Cab Node (CCN);

Steering column control module (SCM);

Rearview mirror / tire pressure monitor (TPM) – if equipped;

Infrared sensor – if equipped;

Transfer Case Module – If Equipped.

M16
–
10 A red
Passenger Restraint Controller (ORC)
M17
15 A blue
Exterior lighting – left front park and side marker, left rear lights and running lights;

License plate lighting.

M18
15 A blue
Exterior Lighting – Right front parking and side marker, right rear lights and running lights
M19
–
25 Amp Natural
Automatic Power Off (ASD) # 1 and # 2
M20
15 A blue
Interior Lighting / Steering Wheel Switches – If equipped;

Switch set;

Vehicle Electronic Information Center (EVIC) – if equipped.

M21
–
20 A yellow
Auto Power Off (ASD) # 3
M22
–
10 A red
Right horn (high / low)
M23
–
10 A red
Left horn (high / low)
M24
–
25 Amp Natural
Rear Wiper – If equipped
M25
–
20 A yellow
Fuel pump
M26
10 A red
Power Mirror Switch / Driver Window Switch
M27
10 A red
Ignition Switch / Wireless Control Module (WCM);

Steering Column Lock – If equipped

M28
–
10 A red
Powertrain control module (PCM)
M29
–
10 A red
Passenger Classification Module (OCM)
M30
15 A blue
Rear Wiper Module (if equipped / Diagnostic Link)
M31
–
20 A yellow
Backup lights
M32
–
10 A red
Passenger Restraint Controller (ORC)
M33
–
10 A red
Powertrain control module (PCM)
M34
10 A red
Parking Assist Module – if equipped;

Heating, Ventilation, and Air Conditioning (HVAC) module – if equipped;

Compass module – if equipped.

M35
–
10 A red
Heated Mirrors – If equipped
M36
–
20 A yellow
Power Socket # 3 (BATT)
M3 7
10 A red
Anti-lock braking system (ABS);

Electronic stabilization program (ESP) module;

Stop light switch.

M38
–
25 Amp Natural
Door and tailgate locking / unlocking motors
CB1
25 amp circuit breaker
Electric seat
Relay
K1
Ignition (work / accessories)
K2
Ignition (run)
K3
Starter
K4
Ignition (Run-Start)
K5
Transmission Control Module (TCM)
K6
Rear window defogger
K7
–
K8
–
K9
–
K10
Automatic shutdown
K11
Radiator fan control