Jeep Cherokee KJ (2002-2007) – fuse and relay box
Fuse and Relay Box Diagrams –
Jeep
Cherokee
KJ
Applies to vehicles manufactured in the years:
2002, 2003, 2004, 2005, 2006, 2007.
For the Jeep Cherokee KJ cigarette lighter is fuse 3 (cigarette lighter) and fuse 16 (rear power socket ) in the fuse box in the instrument panel.
location
Passenger compartment
The fuse panel is located on the left side of the instrument panel behind the cover.
A label is attached to the fuse panel cover to identify each fuse to facilitate replacement.
Engine compartment
The electricity distribution node is located in the engine compartment near the battery.
In this power center there are plug-in "insert" fuses that replace the built-in fuses. In the power center there are also "Mini" fuses as well as plug-in full and micro ISO relays. A label inside the snap-on cover inside identifies each component to facilitate replacement if necessary. The "cassette" fuses and relays can be purchased from your authorized dealer.
Passenger compartment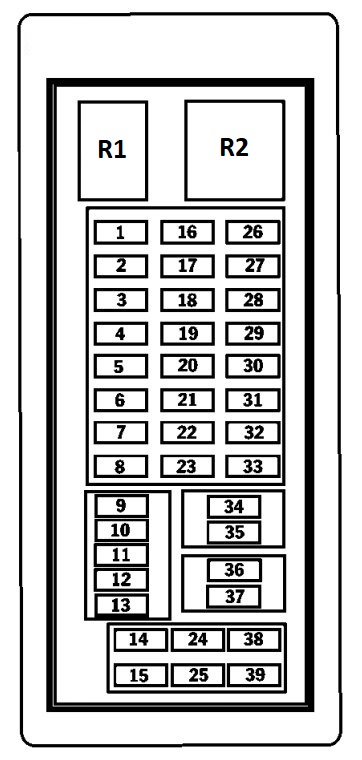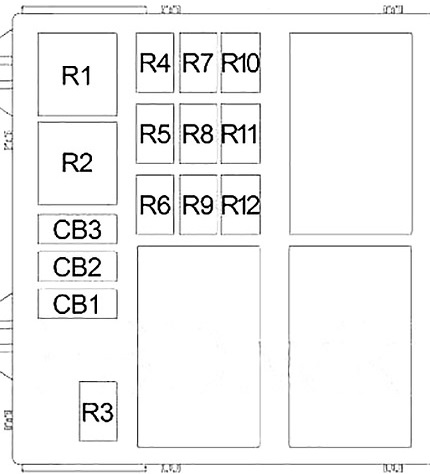 Assignment of fuses in the passenger compartment
Recess
Amperes [A]
Description
1
15 A blue
Horn relay;

Sunroof Power Relay;

Electric window relay.

2
10 A red
Rear fog lights (export only)
3
20 A yellow
Lighter
4
10 A red
Right-hand dipped headlight
5
10 A red
Left dipped beam headlamp
6
20 A yellow
Body control module / power door locks
7
10 A red
Left Parking Light / Left Tail Lamp / License Plate Lamp
8
Reserve
9
10 A red
Right Parking Light / Right Tail Lamp / License Plate Lamp / Cluster
10
Reserve
11
15 A blue
Blinker
12
15 A blue
Stop lights
13
10 A red
Body control module / CMTC / cluster / pass.

Airbag on, off indicator;

Automatic day mirror / light bar switch (Renegade only).

14
10 A red
PDC fuel pump / AC clutch;

Starter relay / engine control unit / transmission control unit (diesel only).

15
Reserve
16
20 A yellow
Power socket (rear)
17
15 A blue
Rear wiper
18
20 A yellow
Radio choke and relay
19
20 A yellow
Front fog lights;

Trailer brake and turning lamps.

20
Reserve
21
10 A red
Radio
22
20 A yellow
Sunroof / Antenna Power Relay Module (Export Only)
23
Reserve
24
10 A red
PDC blower motor
25
10 A red
Heated seat switches / HVAC controller / Trailer tow battery charge
26
10 A red
Right-hand high beam headlamp
27
10 A red
Left high beam headlamp
28
Reserve
29
10 A red
Heated mirrors indicator / rear window defroster indicator
30
15 A blue
Heated seat module
31
Reserve
32
10 A red
Front and rear wiper / wiper switch
33
10 A red
SKIM module / data link connector
34
15 A blue
Body control module / cluster / interior lights;

Hands-free module / Radio / CMTC / ITM module and siren (export only).

35
Reserve
36
10 A red
Airbag Control Module / Occupation Classification Module (Right Front Seat)
37
10 A red
Airbag control module
38
10 A red
ABS controller / derailleur assembly
39
10 A red
Warning blinker (direction indicators);

Reverse lamp switch (manual gearbox only);

Transmission range switch (automatic transmission only).

CB1
25 amp circuit breaker
Electric seat
CB2
–
–
CB3
20 amp circuit breaker
Front Wiper Relay (On / Off), Front Wiper Relay (High / Low), Front Wiper Motor
Relay
R1 (front)
Traffic lights
R2 (front)
Daytime running lamp
R1 (rear)
Power window
R2 (rear)
Rear window defogger
R3
Dipped beam
R4
Sunroof
R5
Front fog lamp
R6
Door lock
R7
–
R8
Horn
R9
Unlocking the passenger door
R10
Rear fog light
R11
Parking lamp
R12
Unlock the driver's door
Energy Distribution Center (Gasoline)

| Recess | Amperes [A] | Description |
| --- | --- | --- |
| F1 | 40 amp green | Blower motor |
| F2 | 40 amp green | Radiator fan |
| F3 | 50 amp red | JB Power |
| F4 | 40 amp green | ABS pump |
| F5 | 20 A yellow | NGC Trans |
| F6 | 30 Amp Pink | ASD |
| F7 | 50 amp red | JB Power |
| F8 | 40 amp green | Ignition / Start |
| F9 | 50 amp red | JB Power |
| F10 | 30 Amp Pink | Tow trailer |
| F11 | | Reserve |
| F12 | 30 Amp Pink | Light bar |
| F13 | 40 amp green | Windows |
| F14 | 40 amp green | Ignition switch |
| F15 | 50 amp red | JB Power |
| F 16 | | Reserve |
| F17 | | Reserve |
| F18 | | Reserve |
| F19 | 30 Amp Pink | Rear window defogger (HBL) |
| F20 | | Reserve |
| F21 | 20 A yellow | Air conditioning clutch |
| F22 | | Reserve |
| F23 | | Reserve |
| F24 | 20 A yellow | Fuel pump |
| F25 | 20 A yellow | ABS valves |
| F26 | 25 Amp Natural | Injectors |
| F27 | | Reserve |
| F28 | 15 A blue | Starter |
| R29 | ISO relay half | Fuel pump |
| R30 | ISO relay half | Starter |
| R31 | ISO relay half | Switch wipers on / off |
| R32 | ISO relay half | Wiper high / low |
| R33 | Full ISO Relay | Blower |
| R34 | Full ISO Relay | High speed fan |
| R35 | ISO relay half | Air conditioning clutch |
| R36 | | Reserve |
| R37 | ISO relay half | NGC Trans |
| R38 | | Reserve |
| R39 | Full ISO Relay | ASD |
| R40 | Full ISO Relay | Low speed fan |
Energy Distribution Center (Diesel)

| Recess | Amperes [A] | Description |
| --- | --- | --- |
| F1 | 40 amp green | Blower motor |
| F2 | 40 amp green | Radiator fan |
| F3 | 50 amp red | JB Power |
| F4 | 40 amp green | ABS pump |
| F5 | | open |
| F6 | 30 Amp Pink | ASD |
| F7 | 50 amp red | JB Power |
| F8 | 40 amp green | Ignition / Start |
| F9 | 50 amp red | JB Power |
| F10 | 30 Amp Pink | Tow trailer |
| F11 | 20 A yellow | Fuel heater |
| F12 | 30 Amp Pink | Light bar |
| F13 | 40 amp green | Windows |
| F14 | 40 amp green | Ignition switch |
| F15 | 50 amp red | JB Power |
| F 16 | 15 A blue | ASD channel |
| F17 | | Reserve |
| F18 | | Reserve |
| F19 | 30 Amp Pink | Rear window defogger (HBL) |
| F20 | | Reserve |
| F21 | 20 A yellow | Air conditioning clutch |
| F22 | | Reserve |
| F23 | | Reserve |
| F24 | | Reserve |
| F25 | 20 A yellow | ABS valves |
| F26 | 25 amp natural injectors | |
| F27 | | Reserve |
| F28 | 15 A blue | Starter |
| R29 | ISO half relay | Fuel heater |
| R30 | ISO half relay | Starter |
| R31 | ISO half relay | Switch wipers on / off |
| R32 | ISO half relay | Wiper high / low |
| R33 | Full ISO Relay | H. Blower |
| R34 | Full ISO Relay | High speed fan |
| R35 | ISO half relay | Air conditioning clutch |
| R36 | ISO half relay | Sticky heat |
| R37 | | Reserve |
| R38 | | Reserve |
| R39 | Full ISO Relay | ASD |
| R40 | Full ISO Relay | Low speed fan |