Renault Captur I (2013-2016) – fuse and relay box
Diagrams of fuse and relay boxes – Renault Captur I
Applies to vehicles manufactured in the years:
2013, 2014, 2015, 2016.
Passenger compartment
The fuse box is located behind a cover on the dashboard.
Number
Description
1
Power steering;

Heated front seat;

Radio.

2
Injection;

Daytime running lights.

3
Airbag
4
Automatic Transmission
5
Dipped beam
6
Front fog lights;

Side lights;

Traffic lights.

7
Horn
8
Left high beam headlamp
9
Right-hand high beam headlamp
10
Headlights, daytime running lights, right
11
Left dipped beam
12
Left lights, left front and right side lights;

Left daytime running lights.

13
Right side lights;

Front fog lamps;

Left and right rear position lights.

14
Rear window wiper
15
Power steering
16
Headlight beam adjustment;

Injection.

17
Daytime running lights;

Brake lights.

18
Headlight beam adjustment;

Brake lights.

19
Exterior mirrors
20
ABS, ESP
21
Indoor lighting
22
Vehicle on / off button
23
Radio
24
Passenger compartment ECU
25
Passenger compartment ECU
26
Turn signal lamps
27
Central locking of opening elements
28
UCE energy management
29
UCE energy management
30
Alarm
31
Instrument panel
32
Lighter
33
Rear fog lights
34
Front seat heating
35
Rear screen defogger
36
Towbar
37
Windshield wiper
38
Empty
39
Windshield wiper
Engine compartment
The location of the fuse box in the engine is shown in the diagram.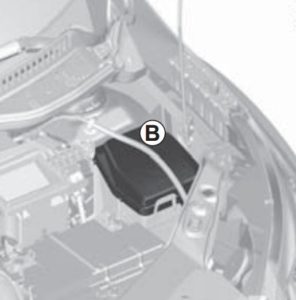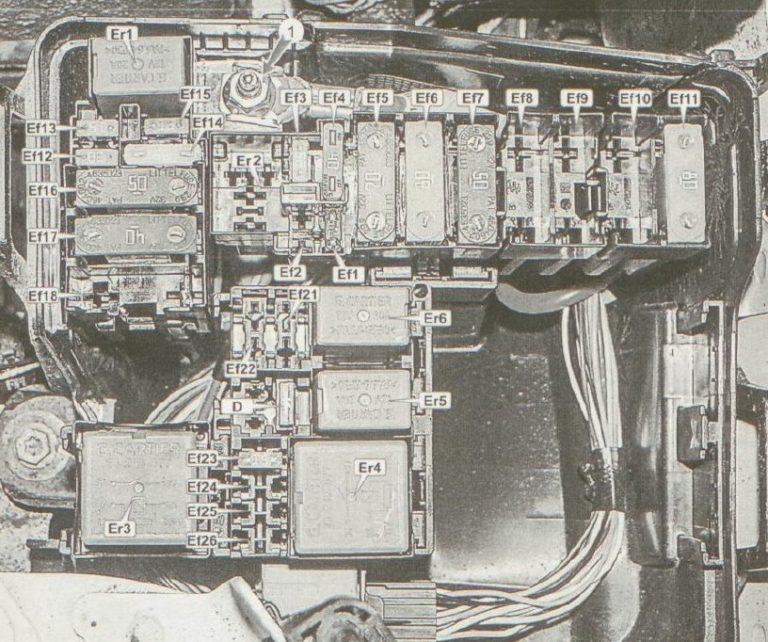 Description
Eph1
7.5A ECM;

Battery current sensor.

Eph2
reserve
Eph3
25A ABS / ESP stability control unit
Eph4
40A Heated rear window;

Heated exterior mirrors;

The circuits of fuses F38 and F47

Eph5
70A Fuse and relay box in passenger compartment;

Fuse circuits F5 / F23 / F24 / F25 / F26 / F27 / F42 / F44.

Eph6
80A Fuse and relay box in passenger compartment
Eph7
ABS / ESP 50A stability control unit
Eph8
reserve
Eph9
80A auxiliary heater * 1
Eph10
40A Heated windshield, right side * 1
Eph11
40A Heated windshield, left side * 1
Eph12
30A Starter * 3
Eph12
15A Automatic gearbox control unit * 2
Eph13
15A Automatic gearbox control unit * 3
Eph13
Starter 30A * 2
Eph14
25A Electronic engine management;

Fuel pump.

Eph15
15A air conditioning compressor clutch relay;

Air conditioning compressor clutch.

Eph 16
50A Electric cooling fan
Eph17
40A Automatic transmission fluid cooling fan * 3
Eph18
80A Electric power steering pump
Eph19
reserve
Eph20
reserve
Eph21
reserve
Eph22
reserve
Eph23
15A Engine management system
Eph24
reserve
Eph 25
reserve
Eph26
reserve
* 1 – Depending on the configuration, * 2 – with a 1.6 engine, * 3 – with a 2.0 engine.
Relays
| | |
| --- | --- |
| Er1 | 20A Starter relay |
| Er1 | 20A Reverse light relay |
| Er2 | Alarm siren relay 20A |
| Er3 | 20 / 35A Starter relay / Coolant fan relay |
| Er4 | 35A Main engine management system relay |
| Er5 | Air conditioning compressor electromagnetic clutch relay 20A |
| Er6 | 20A fuel pump relay |