Volkswagen Polo 6R (2009-2017) – fuse box
Volkswagen Polo 6R
– fuse box diagram
Year of production: 2009, 2010, 2011, 2012, 2013, 2014, 2015, 2016, 2017.
The cigarette lighter (power outlet) fuse on the Volkswagen Polo is fuse # 42 in the instrument panel fuse box.
Instrument panel
The fuse box is located behind the cover under the steering wheel.
On-board supply control unit
The fuse / relay panel is located on the left side under the dashboard.
Main fuse box
Located in the engine compartment on the battery.
Instrument panel

Assignment of fuses in the instrument panel
Number
Amperes [A]
Description
F1
5A
Control unit in the instrument panel insert;

ABS control unit;

Control unit for the operating electronics of the mobile phone.

F2
10 A.
Steering column switch;

On-board power control unit;

Rear window wiper motor;

Windscreen and rear window washer pump.

F3
5A
Fuel pump relay;

Engine control unit;

Fuel supply relay;

Fuel pump control unit;

Material sound control unit.

F4
2A
(2A) Combination switch
F5
–
–
F6
5A
Instrumentation control module
F7
5A
Headlamp range adjuster;

Left license plate light;

Right license plate light;

On-board power controller.

F8
10 A.
Engine management system
F9
5A / 7.5A
TCS and ESP button;

Tire pressure monitor display button;

Steering angle sensor;

ABS control unit;

System stop / start button;

Data bus diagnostic interface.

F10
5A
Cruise control system switch;

Steering column combination switch;

Brake light switch;

Clutch pedal switch;

Onboard power control unit.

F11
5A / 10A
Headlamp range adjuster;

Left headlight range control motor;

Right headlight range control motor;

Cruise control switch;

On-board power controller;

Cornering light and headlight controller.

F12
5A
Outside mirror adjustment switch
F13
5A
Transmission Control Module (TCM)
F14
5A
Supplementary Restraint System (SRS) Control Module
F15
5A
Heated windscreen water jets
F 16
5A
Parking assist control module
F17
–
–
F18
5A
Rear fog light switch contact switch;

Control unit in the dashboard insert;

Left rear fog lamp bulb;

On-board power control unit.

F19
5A
Multifunctional control module
F20
5A
Steering angle sensor;

Control unit in the instrument panel insert;

Fuel supply relay;

Terminal 30 voltage supply relay;

Low heat output relay;

High heat output relay.

F21
10 A.
Multifunctional control module
F22
5A
Diagnostic connection;

Climatronic control unit;

Air conditioning control unit;

Mobile phone;

Functional electronics control;

Electromagnetic key;

Ignition switch.

F23
5A
Gear lever;Rain sensor;

On-board power controller;

Motor controller;

Data bus diagnostic interface.

F24
5A
On-board power controller;

Heated exterior mirror on the driver's side;

Heated exterior mirror on the passenger side.

F25
5A
High pressure sensor;

Heater controller;

Radiator fan controller;

Air conditioning system controller;

Trailer sensor controller;

Diagnostic connection;

Humidity sensor;

Radiator fan controller;

Voltage stabilizer;

Voltage stabilizer 2.

F26
7.5A
Air mass meter;

Oil level and temperature sensor;

Power steering controller;

Crankcase breather heater;

Starter relay 1;

Starter relay 2.

F27
7.5A
Reversing lamps
F28
10 A.
Engine management system
F29
10 A.
Engine management system
F30
10 A.
Engine management system
F31
5A / 10A
Engine management system
F32
10A / 15A / 20A / 30A
Engine management system
F33
5A
Clutch position sensor;

Brake light switch.

F34
15A
Control unit in dashboard;

Left traffic light bulb;

Right-hand traffic light bulb;

On-board power controller;

Left-hand discharge lamp driver;

Right gas-discharge lamp driver.

F35
15A / 20A
Engine management system
F36
7.5A
Right high beam bulb
F37
25A
Seat heating control module
F38
30A
Transmission Control Module (TCM)
F39
10A / 15A
Right low beam bulb
F40
30A
A / C / Heater Blower Control Module
F41
10 A.
Rear window wiper motor
F42
15A
12V cigarette lighter socket
F43
15A
Multifunctional control module
F44
5A
Alarm system
F45
15A
Public address system
F46
20A
Headlight washers
F47
20A
On-board power control unit;Windshield wiper motor.
F48
25A
Multifunctional control module
F49
15A / 30A
Fuel pump relay;Fuel supply relay.
F50
25A
Door function control module, driver
F51
25A
Passenger door function control module
F52
30A
Rear left door control unit;Rear right door control unit.
F53
30A
Multifunctional control module
F54
15A
Front fog lights
F55
15A / 20A
Engine management system
F56
15A
Daytime running lights
F57
15A
Multifunctional control module
F58
20A
Brake servo vacuum pump
F59
10A / 15A
Left dipped beam bulb
F60
15A
Public address system
Main fuse box
Arrangement of fuses in the main fuse box
| Number | Amperes [A] | Description |
| --- | --- | --- |
| F1 | 150A / 175A | Alternator |
| F2 | 30A | Gas fuel control module |
| F3 | 110A | |
| F4 | 50A | Power steering control module |
| F5 | 40A | ABS control module |
| F6 | 40A | Engine coolant blower motor control module |
| F7 | 50A | Glow plugs |
| F8 | 25A | ABS control module |
| F9 | 30A | Engine coolant blower motor control module |
| F10 | 5A | Engine coolant blower motor control module |
| F11 | 10 A. | ABS control module |
| F12 | 5A | Multifunctional control module |
| F13 | 30A | Transmission Control Module (TCM) |
On-board supply control unit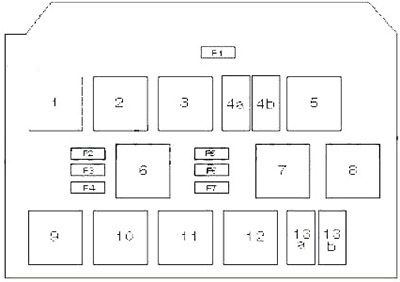 On-board supply control unit
Number
Amperes [A]
Description
1
2
3
Ignition main circuits relay
4a
Dipped beam relay
4b
Fuel system starter relay
5
ABS protection relay
6
Gas:

Fuel pump relay (FP)

7
Starter lockout relay
8
Ignition auxiliary circuits relay
9
Headlight washer pump relay
10
Ignition auxiliary circuits relay (08.09)
11
12
13a
Starter motor relay
13b
Auxiliary heater relay
F1
30A
Sunroof control module
F2
40A
Engine coolant heater
F3
40A
Engine coolant heater
F4
40A
Engine coolant heater
F5
20A
Trailer control module
F6
20A
Trailer control module
F7
15A
Trailer control module