Renault Talisman (2015-2019…) – fuse box
Renault Talisman (2015-2019…) – fuse box diagram
Year of production: 2015, 2016, 2017, 2018, 2019.
The fuse of the cigarette lighter (power socket) on the Renault Talisman is a fuse

in the fuse box.
Location of the fuse box
The fuse box is on the left side of the steering wheel behind the cover.
Unclip the access cover A. Use the fuse location label in compartment A to identify the fuses.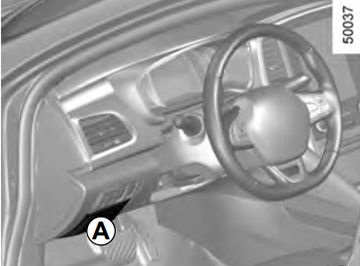 Fuse
Fuse
Description
Car windshield wipers
Third row accessory socket;

Luggage compartment accessory socket.

Front cigarette lighter socket;

Front and rear accessory socket.

Not used
Heated door mirrors
Brake lights;

Central unit of the passenger compartment.

Parking brake
Additional servo
Radio;

Multifunction screen;

Multimedia accessory sockets;

Parking brake control.

Central unit of the passenger compartment;

Rear wiper;

Rear fog light.

Locking of opening elements;

Opening control and

closing the boot lid.

Not used
Towing hook socket
Diagnostic socket;

Audible alarm.

Horn
Instrument panel;

Dashboard control light.

Suspension with piloted shock absorption
Windshield wiper
Direction indicator lamps;

Emergency lights.

Rear USB ports on the console
Not used